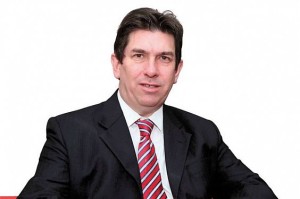 Smart City technology to grow to USD 20.2 billion by 2020, but organisations need long-lasting IT plans in the next six months, says Condo Protego CEO Andrew Calthorpe
Standing in line for a coffee, I'm eager to order as my car is double-parked on Dubai's JBR Walk. I frantically check the maps app on my smartphone to find the fastest route to work to avoid being late. My coffee comes—and the name is 'Andru'.
Not a great start to the day. But what if this situation never happened again? Imagine your car ordering your coffee with your name spelled right, self-driving to the coffee shop, then arriving at work on time and parking itself.
This could be a vision of our near future, thanks to the rise of Smart Cities across the Middle East and North Africa (MENA), led by the Dubai Smart City initiative.
In Smart Cities, millions of sensors connect virtually everything to citywide Wi-Fi networks. These connections will drive innovations like smart parking, smart refrigerators that order groceries and smart utilities that monitor energy usage.
Navigant Research forecasts that the global Smart City technology market will grow from USD 6.1 billion in annual revenue in 2012 to USD 20.2 billion by 2020.
Driving Smart City network connections are data centres, sifting through zettabytes of Big Data using the power of cloud computing. Big Data technology and services are slated to grow at 27 percent CAGR to USD 32.4 billion through 2017, according to IDC.
Companies of all sizes, from large enterprises down to small homes and offices, need around-the-clock access to their data, with enterprise storage solutions enabling them to shift their IT infrastructure largely to the cloud.
Cloud services are booming worldwide, with research firm Deloitte predicting the global cloud market to grow from USD 41 billion in 2011 to USD 241 billion by 2020.
As more organisations shift data to the cloud, the MENA cloud market is particularly robust, with Gartner predicting that it will total USD 4 billion from 2013-2017, with USD 1.1 billion on public cloud services by 2017.
But storm clouds are brewing in cloud computing. Recently hackers used smart refrigerators to send spam e-mail. If something as harmless as a refrigerator could expose data, then what about shopping websites, banks, hospitals, public sector bodies and government agencies?
All of these institutions need the most advanced data protection, with solutions that are future-proof and meet flexible budgets. A freelancer's home business needs as strict data protection as that of a multinational company.
In a world where data needs to be accessed around-the-clock, companies and governments also need to prepare disaster recovery solutions. While most technology incidents are human error, MENA cities face triple the number of natural disasters since the 1980s, according to the World Bank.
In order to build the foundations of the region's emerging Smart Cities, companies and governments need to develop long-lasting IT plans within the next six months.