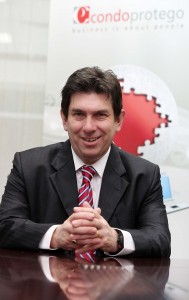 Condo Protego CEO Andrew Calthorpe urges VARs not to get spooked by the cloud as it moves from buzzword to business reality in the Middle East.
Earlier this month, I was at a Gartner event, and the well-worn topic of cloud computing drifted into play.
No surprises there – the flexibility this technology offers has been relentlessly hyped in the region over the past year. Yet the presenter went on to ask a cutting question that lingered. As businesses move into the cloud and maintain software as a service (SaaS) models, what is the point of the VAR? How does it survive?
It may seem like an obvious question. Though, judging by the faces in the crowd, it is not one that VARs ask enough. The region's relatively slow cloud uptake may have afforded a certain degree of breathing space, but even the briefest glance at the horizon suggests it is going to get very cloudy, very quickly in the coming years.
Certainly, there are plenty of compelling stats and numbers to crunch and contend with.
According to Gartner, the Middle Eastern and Northern African (MENA) public cloud services market will see strong growth in 2013, with revenue forecast to reach $462.3 million, a 24.5-percent increase from 2012.
Ed Anderson, research director at Gartner, has proclaimed that cloud services continue to "outpace other parts of the IT marketplace" and that MENA spending will grow around 20.2 percent though 2016 – higher than the expected 17.7 percent for the rest of the world.
Gatepoint Research digs deeper still with a survey discovering that 81 percent of the executives questioned already have, or are investigating or developing, a cloud strategy. Forty-five percent of respondents plan on public cloud use within the next 5 years, 29 percent plan to use the private cloud and 22 percent will look to hybrid options.
Add to the mix findings by Bain & Company, revealing that faster-growing companies (greater than 10 percent per year) use 144 percent more cloud services than slower-growing companies, or that CIOs entering their position within the last year will have 141 percent more of their environments in the cloud than a longer-tenured CIO (greater than six years), and you get the picture. The times are changing, and it could all get a bit overwhelming for the humble VAR.
But that doesn't have to be the case. Customers won't automatically run direct to the software providers, so the adaptive and prepared VARs that can provide solid consultative advice will still be very much in demand, whether it is a question of vendor choice, application configuration or the challenge of integrating and adapting with existing infrastructures.
Fundamentally, the game is likely to change to take on a more intimate, relational dynamic. Cold, hard selling will go out of the window, and a more specific, personalised approach will prevail, whereby solutions and pathways to optimised progress are intricately mapped out.
One of the main issues in this cloudy new era will be how to determine where the money is going to come from. A hefty, up-front license bounty is likely to become a thing of the past and, in its place, a more staggered structure will emerge.
Things will be different, no doubt, but they will certainly not be devoid of opportunity. Whether it is remote troubleshooting, incisive management advice, real-time monitoring, consultation, optimisation, or all of the above, now is the time for VARs to really earn their value-added stripes.