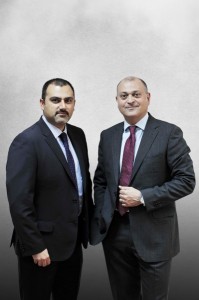 With a new management at the helm and greater emphasis on innovation, PC maker Acer is working its way back on track. Amin Mortazavi, who has recently joined the company as VP for the Middle East and Africa region, and Ali Nemati, GM of Middle East, spoke to us about the strategy to find its bearings again and win back channel confidence.
Acer has gone through a rough patch with management shakeup, supply chain issues, and dip in market share in the recent past. Are you bouncing back now?
The answer is yes in big, bold letters. Yes, you are right in saying that Acer has lost a bit of steam for around 18 months or so, and I don't want to get into the details of what has happened. But, that is behind us now. I was at our global sales kick off meeting in Taiwan last December, where I had the opportunity to listen to the leaders of the company and clearly see the direction we are taking, which is all about transparency, innovation and elevating the brand.
So we are indeed back in the game with full steam and you are going to see a lot of Acer presence across the region. We have started to innovate again as you can see by the products we have brought to the market recently and this is only the beginning.
Acer's focus has been focused on grabbing market share all along. Are you now going to re-focus your efforts on innovation?
Mortazavi: As a company, we have only around 8,000 employees globally, which means we are extremely lean and agile. Out of that total count, around 10 percent is employed in R&D, a sign of our commitment to innovation and providing the right technology to our customers across the globe.
Our main message is profitable growth, and in order to grow profitably you need to have a focus on R&D, marketing and communications. Yes, we want to expand our market share but not the cost of profitability. We will not go after market share by engaging in price wars with others either. We'd rather be number three and service our customers in the best possible manner. And as you know, the percentage difference between the number one and two in the PC business is ever changing.
Acer has been pretty strong in the netbook market until tablets came along. Isn't that what made a dent in your business?
Mortazavi: We are still number one in the netbook market in the Middle East and Africa region, and now we are making a transition towards the tablet market. I believe we have the right products in our arsenal to capture a big slice of this market. We'd lost some of our foundation in the Middle East, and it's important for me to define what it takes to succeed in the future. I was fortunate to inherit a very strong team on the ground and we have streamlined our management operations by hiring people with the expertise.
The way we are set in terms of distribution is also important for us to succeed in this market. We have to ensure that we have the right distribution set up and we will make changes in certain geographies. We have to reconnect with the right resellers and fine tune our partner strategy, and this is where Ali Nemati comes in with his wealth of experience.
Acer has written off huge inventory in the past and there have been reports about channel stuffing. How do you plan to win the confidence of the channel again?
Nemati: Yes, there were channel inventory issues across EMEA, which cost the company heavily, and those problems have been ironed out ever since. Now, we operate with acceptable levels of inventory at the distribution side. I believe it's important to partner with distributors who are right for our strategy and business.
What are the product categories that you are going to focus on this year?
Mortazavi: Tablets are definitely on the top of the list and it's important for us to continue our strong presence in the consumer notebook segment. From a product perspective, we are going to revive our server business again and since we operate in the emerging market, believe it or not, there is a huge demand for desktops from first-time buyers, especially in markets such as Africa. We have a production facility here at our HQ that can offer built-to-order desktops and customers notebooks, that no other vendor can offer.
How do you plan to take on competition in the tablet market, which is already crowded?
Mortazavi: We aren't going after any particular vendors, and our aim is to establish ourselves as a brand that must be taken seriously in this segment. We have recently introduced a range of Windows 8 tablets, including the Iconic W700, which is a notebook substitute targeted at the commercial sector (see the review). We have different models with very competitive pricing and the market feedback has been fantastic. In fact, we weren't able to meet the demand and had to ramp up production to meet them.
Do you have any plans to launch your smartphones in this market?
Mortazavi: Not at the moment, as it's a services-heavy product category. You need to make sure that you have full fledged services capabilities before you go out and sell phones. I have seen some really nice Acer phones in Greater China and some selective European markets. Though we are very excited about this, we have to make sure that we have the right infrastructure in place before rolling it out here in this market.