Ahmad Shakora, Regional Vice President – Middle East, Turkey & Africa at Cloudera has penned an exclusive op-ed for tahawultech.com – in which he documents the reasons why he believes Enterprise Data Protection is the remedy for the problems many businesses experience in terms of managing their data.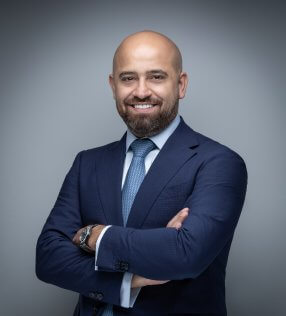 Data is an essential part of any business, but it can be a tricky balancing act when it comes to the management and storage of data. Companies must have access to accurate information for analytical purposes and historical records to comply with regulations and legal requirements. However, managing this data manually presents several challenges from both a time and cost perspective.
If someone at a management level across the EMEA region was asked about their business profits or aims, they'd likely respond along the lines of efficiency in customer service, a dynamic functioning model, and financial benefits for the franchise.
Therefore, in attempts to meet business priorities, it is advised to implement technological support:  IoT and Edge, Artificial Intelligence and Machine Learning (AI & ML), or even Blockchain. And what keeps these varied technologies connected? Data!
These technologies work together, covering different functional tasks to provide relevant results. Whether this information is covert or overt, every business participates in the game of data. The value from each business's data needs to be extracted from the datasets to successfully partake in the game. It is essential to use the right game-plan to make best use of available technologies,, to achieve the right results. This is where an Enterprise Data Cloud (EDC) comes into play.
Business Transformation – The Cloud/The Cloud Shift 
Businesses require speed, flexibility, and productivity to meet growing demands and therefore need to move towards a technological shift to the cloud. The advantage here is that when businesses operate alongside cloud technologies, what usually would be long, taxing processes for IT projects, occur much faster.
IT relies on the spontaneity of data centres to access the available machines for any requirements. This is where the cloud becomes an attractive factor to companies. They understand that speed and flexibility are essential factors to advancement and innovation.
For businesses making the cloud shift, an important point to note is implementing cloud technologies is not a one-stop-shop. It is important to alter the technologies as per the business requirements and create a more dynamic solution. There are various systems for each dataset, followed by security systems across the private and public clouds.
Implementing AI and ML 
Another challenge businesses face is understanding the capacity to implement AI and ML during their business transformations. To successfully put AI and ML into effect, several things need to be considered regarding what should be done with the data.
Organisations need to get the basics right as a starting point, meaning they need to have the ability to collect and process data precisely to enable developers to configure a base algorithm before getting into the insights that the technologies can provide.
The Enterprise Data Cloud (EDC) 
To extract desired data and stop archives, organisations must enforce relevant technologies to support their transformation attempts. This is where you use the EDC. An EDC is a dynamic multi-cloud platform that uses analytics at every level of the data lifecycle to help organisations gather the optimum results from their data.
This can be identified through four main factors:
The capability to use any cloud for analytics.
An EDC is designed to work in hybrid and multi-cloud scenarios, providing the same data management functionalities across all cloud server types. Businesses have the option to choose their host and need not be committed to one provider.
Supporting organisations at every stage of their data life cycle
No matter how far along businesses are in their data journey, EDCs help during any phase from the beginning while trying to understand what data a company has, up to the stage of successfully using AI and ML.
Constant privacy and surveillance
An EDC provides companies with continuous security, surveillance, and command, allowing users to know precisely where their data is, preventing any potential cybersecurity threats.
An open-source technology
This is a crucial feature in EDCs; the open-source technology has a rapid rate of alterations, modernisation, and performance that remains unmatched.