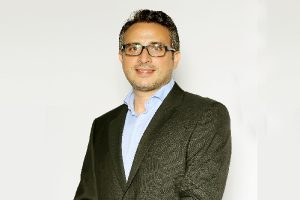 Haider Salloum, SMB Channel Director, Microsoft Gulf, says partners need to position themselves as trusted advisors to help customers mitigate security threats, else the move to digital transformation could slow down.
In the past year, we have witnessed not just the growth of cybercrime, but a proliferation in cyber-attacks that is both new and disconcerting.  In this hyper connected world, an increased number of customers are adopting digital transformation and going online. However, an increasing number of people are trying to abuse this phenomenon and gain an unlawful access to data or systems of these customers.
Channel partners play a critical role here. They are the real-world advisors for customers to address threats that might cripple their business. A customer in retail, hospitality or manufacturing will have core competencies that are focused on how to gain a business advantage in the marketplace. They wouldn't normally have the time, expertise, knowledge or specialisation needed to deal with the ever-evolving security threats.
For channel partners this means an opportunity and a threat. As an industry, if we cannot contain and mitigate these security threats and attacks to customers, the adoption of the fourth industrial revolution – digital transformation – could potentially slow down.
However, this phenomenon could also be an opportunity – opening avenues for partners to advise customers on how to protect their endpoints and adopt the right solutions that can protect their businesses from cyber-attacks.
Partners should focus their technical resources on security. Equip the partner team with a deep technical understanding of the nature of threats, and available solutions that address them. The partner would also need to understand customer requirements, and then, armed with this knowledge, can customise an offering that to go to market.
This could be in the form of an end-to-end solution, not just a single product. A combination of product(s), one-off services and ongoing managed services to the customer could work wonders.
In short, the partner needs to have specialised personnel with security expertise, good understanding of the security landscape – threats and evolution and solutions involving products and services to adequately address these threats.
In 2015, companies in the Middle East suffered larger losses than other regions because of cyber incidents according to PwC. This could be viewed as both a threat and an opportunity for the industry.
If data systems continue to be attacked frequently and are no longer considered secure, businesses will lose trust in moving to a digital platform. This, in turn, will affect the adoption of new technologies that are critical to transform the business.
Hence, partners have an opportunity to go in, position value-added services and leverage their advantage of deep expertise and specialisation in security to the customer.
Customer concerns around security differ. Some are more concerned about data security, while others about physical security, or compliance. Partners can thus opt to specialise in specific or multiple areas of security landscape to address cyber threats.
The modern business doesn't just want to leave their business security in the hands of a simple firewall/antivirus solution. They want an end-to-end solution that covers identity, app and data, device and infrastructure security – and an ongoing maintenance service.
Partners will find that, this in fact, is where the real opportunity lies. As a result, they can command a premium, since security is no longer a commodity service.
To differentiate themselves, partners would do best to invest in security as a practice, moving forward from ad-hoc approaches of point solutions. The nature of cyber threats today requires a longer-term approach that allows you to evolve and deal with hackers and phishing artists. Partners can stay abreast of changes in the threat landscape and leverage advanced types of security frameworks and services. Value-added managed services are the best way to differentiate your business in this market. They should adopt a holistic approach to deal with security and connect with technology companies who provide a set of solutions on a comprehensive security platform, powered by built-in intelligence. Your customers need your help to protect, detect and respond to threats, by moving to the cloud, adopting modern platforms, and embracing comprehensive identity, security and management solutions.
Another interesting concept that's gaining traction in other parts of the globe is security insurance. Partners along with insurance companies could offer a customised insurance policies to deal with security threats to businesses. Thereby, even if customers get hacked, there's an assurance of some level of protection from business losses.
Through such unconventional methods, partners can distinguish themselves from the competition to explore and evaluate what's available in the market.