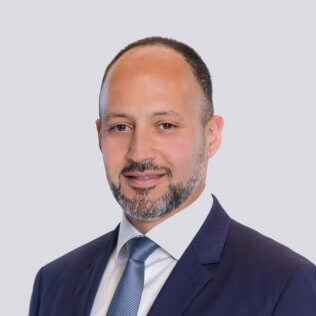 The Middle East is at the centre of digital transformation, but this can only be achieved through new technologies such as AI and machine learning, IoT and Blockchain, says SAP's Senior Vice President and General Manager for Middle East South, Gergi Abboud.
Across the Middle East, people and society are relying ever more on Smart City solutions and autonomous devices with built-in intelligence – from autonomous cars and drones, to connected refrigerators capable of ordering their own groceries.
But in terms of enabling such a connected society, there is much work to be done behind the scenes. A large part of this digital transformation – of organisations, cities, and countries – will involve combining Artificial Intelligence (AI) and machine learning, the Internet of Things (IoT), and Blockchain.
When these elements – each complex in their own right – are brought together within a cloud environment, their combined value increases dramatically. Not just for organisations that need to adopt them, but also for society – across government, the business world, and our personal lives.
In our discussions with Middle East customers, we understand that many organisations need to overhaul their established processes and re-invent their systems for a new, burgeoning digital age. For example, while 84 percent of organisations say digital transformation is critical, Oxford Economics research shows that only 3 percent of organisations have completed digital transformation.
Industry Verticals Benefit from Integrated Technologies
Thankfully, Middle East organisations across all industries are now able to benefit from the power of AI, IoT, and blockchain through tailored solutions and cloud-based digital platforms that can simplify processes, optimise costs, boost efficiency, and can scale up as organisations grow.
2019 is shaping up to be a major year for cloud adoption. For example, new YouGov research shows that the majority of IT decision-makers in the UAE are increasing their cloud spend and will be partially or fully on the cloud this year.
By tech investment, in the Middle East and North Africa, our research with Oxford Economics shows that more than three-quarters of IT decision makers agree on investing in 'future technology' solutions including artificial intelligence, blockchain, and the Internet of Things to drive digital business success.
We are increasingly seeing a new breed of solutions that can transform core operations and services – from digital oilfields to connected malls and ports – that companies can provide to their customers.
Our Co-Innovation Lab in the UAE is piloting many innovations. Emirates NBD's "Really!" app can provide prospective realty buyers with an immersive home buying experience. DEWA has a pilot project for faster, safer, and more cost-effective utilities maintenance combining virtual reality and IoT. EOH International's EnerClever Smart Waste Management sees connected trash trucks optimise routes.
SAP's Investments in the Region's Cloud Future
In the Middle East, we are committed to enabling digital transformation and we have been investing in the infrastructure to power these innovations. This philosophy has been at the heart of one of our major investments in the Middle East region last year: The public cloud data center that we opened in the UAE, as part of our 5-year, USD 200 million investment.
As the first multi-national business applications provider to launch cloud data centers in the UAE, SAP is fast-tracking digital transformation with business solutions tailored to the needs of specific industry verticals and lines of business. Our cloud data centers are open to organisations across the UAE, and also to any organisation in the region or even throughout the globe.
As cloud, AI, IoT, and blockchain projects must be designed, deployed, and managed by highly skilled IT professionals, our Training and Development Institute is developing young talent and the workforce of the future across the region. We've already seen more than 750 graduates from our Young Professional Program and Dual Study Program across educational institutions in the MENA region.
As we approach mega-events such as Expo 2020 Dubai, for which SAP's S/4HANA real-time business suite can optimise an expected 25 million visits, and as the region's nationwide visions accelerate, 2019 serves as the key year for organisations, cities, and countries to digitally transform on the cloud.
For more information download the latest issue of Equinix Multicloud ME.