Tahawultech caught up with Tamer El Refaey, CyberRes Sales Engineering Leader, Emerging at Black Hat MEA today to discuss how customers can become cyber resilient, their hybrid solutions & products and the main cyber threat trends during 2022.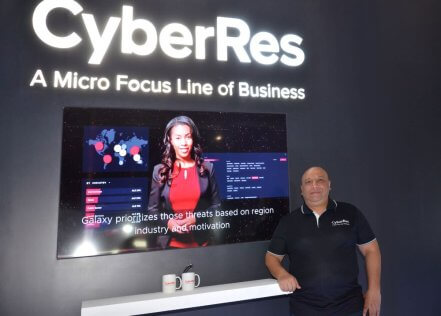 Can you tell our readers about your expectations during Black Hat this year? What are you hoping to achieve?
Black Hat is always an excellent opportunity to meet customers, understand their business priorities and challenges, and help them understand how our solutions can address some of these challenges.
It is also essential to see what is new in the cyber resilience market and how we can collaborate with other security solution providers to offer our customers the value they expect.
How do you help your customers to become more cyber resilient?
The idea of cyber resilience is that organizations should make the necessary efforts to ensure that their critical assets are adequately protected, can detect and respond to cyber-attacks as soon as possible, and adapt to an ever-changing threat landscape.
Our focus is to help customers do exactly that. We provide solutions that allow them to protect the organizations' identities, applications, and data. We also help organizations build advanced detection and response capabilities and leverage advanced intelligence and machine learning to cope with new threats.
Can you tell our readers some of the hybrid solutions and products you are showcasing at Black Hat?
We have mainly four solutions that we are showcasing in Blackhat. These solutions are:
NetIQ secures organizations through a comprehensive set of identity and access services for workforce and customer identities
Fortify provides a holistic, inclusive, and extensible application security platform to orchestrate and guide your AppSec journey.
Voltage allows organizations to discover, classify, monitor, and protect their structured and unstructured data wherever they reside. It also allows them to provide the necessary protection while the data is at rest, in transit or in use.
ArcSight lets organizations accelerate threat detection and response with holistic security analytics, native SOAR, and intelligent automation
What do you think it makes you different from your competitors?
We don't provide point solutions like most of our competition. We strive to build an end-to-end integrated suite of solutions that address our customers' challenges in a specific area. We also rely heavily on machine learning capabilities that reduce noise and allow organizations to adapt to the evolving threat landscape.
How does Galaxy help CISO's strengthen their cyber resilience?
Galaxy is a threat intelligence platform to monitor, identify, research, and analyse the cyber threats targeting companies and then creates action plans to harden their defences. It is built for business performance to provide the most relevant and actionable threat intelligence for security executives, which helps them quickly and simply see what's threatening.
What are the main cyber threat trends you have seen during 2022?
We have seen what became everyday cyber threat trends like ransomware, data leakage, and financial cybercrime. However, we have observed an increase in attacks targeting critical infrastructure. This is a concerning observation due to the impact these attacks can have on the safety and prosperity of human beings.