Anita Joseph caught up with Sachin Srinivasan, Commercial Display Director at Hikvision MENA, to know more about the commercial display market in the region and how Hikvision continues to lead the way in this segment.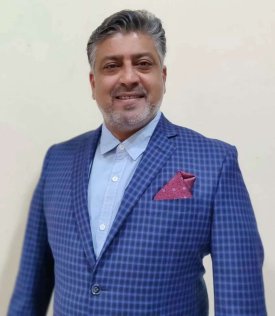 Tell us about the commercial display products you showcased at GITEX 2022 
Hikvision is no longer only a security company, our business scope has become much broader. Hikvision is an IoT solution company with video as its core competency. Hikvision has been in commercial display solutions since 2008. Hikvision has introduced commercial display solutions in the MENA region from 2019.
I can confidently say that we have the A to Z solutions in commercial display: we have indoor LED solutions, outdoor LED solutions, LED module solutions, creativity solutions which includes the LED poster, the all-in-one LED, the 3D LED solutions and the transparent LED solutions. And we are also into the LCD video wall solutions. We also have the interactive display solutions for education and for meeting rooms. We are also into digital signage solutions where we offer screens with a built-in media player right from 22 inches all the way up to an 86-inch screen.
Can you tell us more about what benefits these products provide? 
There's a huge market for commercial display in the MENA region and the verticals that we cater to-right from the retail vertical, the hospitality vertical and the government vertical. In fact, the retail vertical is one of the biggest verticals in commercial display. LED, in particular, has a huge demand in the MENA region.
We also have LCD video wall solutions. These are basically for control rooms, while the digital signage solutions are for retail. They are also used in the lobby areas of hotels, corporate and government verticals. Interactive displays are actually used in meeting rooms. Post the pandemic, cloud conferencing gained considerable traction. That's primarily why people began looking at meeting room interactive displays with a built-in camera and microphone.  
We also have the education interactive displays. Education interactive displays are in great demand, especially from schools, colleges and universities. We have tied up with education content providers, and we sell these interactive displays to leading schools and universities.  
What differentiates Hikvision from other providers of commercial displays?
We not only provide the display, we also provide LED controllers along with our LEDs. In addition, we provide video wall controllers as well as the encoders and decoders. We've also launched some flagship products for our outdoor LEDs, with higher brightness, a very slim profile and very low power consumption which is the need of the market.
The brightness of an outdoor LED product depreciates by 8% every year. So if you buy a product that has a brightness of 6000 nits, in five years, its brightness will come down to 3000 nits. This means that it will not function properly during the day, which in turn, means that its functionality is reduced considerably. Therefore, we've come up with a product that has 10,000 nits of brightness but can be kept at 6000 nits of brightness so that you get a uniform brightness for the next five years. Again, its power consumption is half that of the competitors in the market.
This saves a lot of money.  
Even in our indoor LED products series, we've introduced a new series of Flip Chip COB LEDs. Flip Chips will take over the LED industry and probably in the near future, they might even replace the LCD industry completely. At the moment, the cost of production of the COB LED is very high, but in course of time, the pricing will come down as demand decreases.  
We make COB LEDs from 0.4 mm pixel pitch, to 0.7mm, 0.9mm and 1.2 mm. 
How important an event is GITEX for Hikvision? 
GITEX is an important platform to showcase our solutions since it caters to the entire MENA region. People visit this event from all over the world and so it provides plenty of opportunities to showcase our cutting-edge products and solutions. Hikvision already enjoys a solid name in the security industry, and we would like to strengthen our reputation in commercial display. So this year at GITEX we showcased our 3D LED solutions, our transparent LED solutions, interactive display solutions and our COB LED solutions.