Hikvision has recently hosted the Hikvision Ecosystem Alliance Event 2019, bringing together government end users, technology enterprises, AI technology professionals, system integrators and over 200 CXO level decision-makers.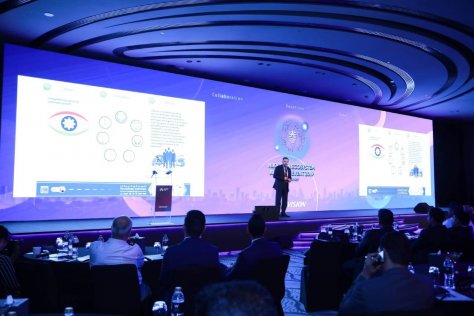 The event explored the potential for collaborating and developing new technology opportunities together.
Held under the theme 'Collaboration Redefines Tomorrow,' the event encouraged companies to unite and build a technology community and Hikvision's top technology partners displayed their latest trends, technological implementations and full comprehensive solutions that are supported by Hikvision's high potential and capacity for technical integrations.
At the summit, Binson Xu, president, Hikvision MENA, said, "Hikvision is the world's leading provider of innovative security products and solutions. We advance the core technologies of audio and video encoding, video image processing, and related data storage, as well as forward-looking technologies such as cloud computing, Big Data, and deep learning.
"We have been working on open technology cooperation with our partners since the establishment of the company, because we believe that is how the future will unfold. So far, we have worked with more than 400 partners globally, numerous projects were completed, now we are taking a more structured approach by forming dedicated integration programs, like the recently launched HEOP (Hikvision Embedded Open Platform) and Hikcentral Optimus Middleware," he added.
Xu further highlighted that with the new open platform Hikvision will create a sustainable eco-system offering our customers wide-ranging, professional and customised solutions, including smart city, intelligent transportation, education, healthcare, financial institutions, and energy, as well as intelligent buildings.
He then noted that the Hikvision Ecosystem Alliance Event, sought to be a transformative and interactive platform for their technology and channel partners to discuss how they can develop solutions backed by Hikvision's vast resources.
The Hikvision Ecosystem Alliance Event also featured successful project stories and achievements receive accolades in an award ceremony.