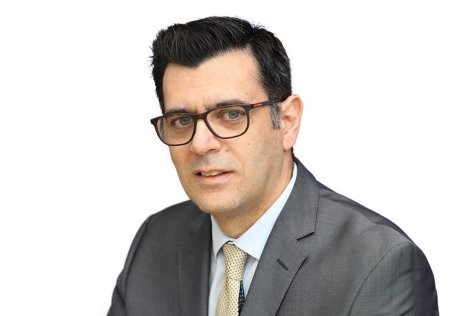 Hakan Ozyigit, regional director, Security Systems and Building Technologies, Robert Bosch Middle East, discusses the evolution of the smart video surveillance and how the company can play the role in the security segment's future.
What have been some of the highlights at Bosch Building Technologies over the past year? 
Over the past year, we focused our efforts on highlighting the tremendous value that Video Analytics can bring to both organisations and governments by delivering unparalleled data for business intelligence. Our customised solutions are helping solve critical organisational challenges while delivering layered insights.
With several successful launches, during the last year we have introduced a number of security systems offerings including climate-resistant, easy to install, yet cost-effective smart video solutions. Our most recent camera range is the IP 3000i cameras with four form factors and Essential Video Analytics built in as standard. Featuring Camera Trainer technology are the FLEXIDOME IP starlight 8000i fixed dome cameras that offer remote wireless commissioning, detailed image capture in challenging light conditions, and data analysis for improved security Camera Trainer technology harnesses machine learning to enable the built in Intelligent Video Analytics in Bosch cameras to function in ways that are even more accurate and application specific, opening up new revenue channels for businesses.
Our smart surveillance portfolio is rounded off by MIC IP 7100i extreme weather cameras (also with Camera Trainer technology), AVENAR 2000/8000 fire alarm panels, AVENAR 4000 alarm system and the PRAESENSA Public Address and Voice Alarm System, to name a few.
How has the smart surveillance segment evolved over the last couple of years? What are the latest trends impacting this space? 
The increased demand for crisp image resolution and perimeter surveillance is resulting in widespread adoption of multi-sensor cameras, supported by capabilities within artificial intelligence and cloud computing. Such a landscape is providing immense opportunities to both service providers and vendors of residential and commercial security and surveillance solutions.
An increased reliance on Internet Protocol (IP) is supporting both video-based surveillance and related technologies. Deployment over IP is resulting in reduced costs due to widespread availability and high bandwidth speeds. With the proliferation of the Internet of Things (IoT), smart surveillance can integrate with energy management and building automation platforms. Such connectivity and data volumes increase the significance of protective security solutions. For instance, data security can be achieved through encrypting it at the hardware level, using a cryptographic key that is safely stored in a unique built-in Trusted Platform Module.
The surveillance platforms are also able to securely share data with mobile devices, providing both historical data and real time insights.
How will the hyper-connectivity brought by the impending Internet of Things era impact initiatives around smart and safe cities? What role can Bosch play in this era? 
Within our hyper-connected smart cities, with its capabilities in sensor and analytics technologies, networked video surveillance will provide a host of benefits that enable faster detection and prosecution of accidents and crimes. The predictive analytics provided by these platforms and the ability to draw data from across the entire timeline (since the installation of these technologies) allows decision makers in cities address these challenges head on and reduce their reliance on physical security and need for engagement across different end users.
Such technologies are delivering higher resolutions and frame rates, resulting in several terabytes of rich data, but also creating uses well beyond security. We are committed to ensuring that such data needs to be managed efficiently without compromising image quality or making it less relevant.
What initiatives and technologies should governments and private organisations invest into?
Standardisation, connectivity, and seamless, cross-company integration are critical for the success of smart surveillance. It is important for organisations to work with each other and with governments in order to establish a common standardised platform for security and safety solutions.
Bosch Building Technologies, Hanwha Techwin, Milestone Systems, Pelco, and Vivotek Inc. jointly established the Open Security and Safety Alliance to create a secure and reliable ecosystem for the security and safety industry that brings together hardware manufacturers, software developers, integrators, specifiers, consultants, users and many others.
The UAE is among the most active nations when it comes to smart and safe city initiatives, how does Bosch aim to support the nation in this endeavor?
We are committed to support Dubai's smart city developments and future ambitions on all aspects. We hold capabilities not just on a product and software level but also within providing central communication and integration solutions that can link municipal and public services. Such solutions can connect city and community stakeholders (e.g. residents, tourists, government) together with parts of the public infrastructure and other service providers (e.g. mobility services).
How will the upcoming Expo 2020 impact organisations' investments around smart surveillance? 
With a large number of visitors expected over the six-month event, adoption of smart surveillance technology is expected to peak. It is important for organisations to renew their focus on cybersecurity and data protection.  We are committed to driving a systematic approach to maximise data security by considering physical safety and cybersecurity simultaneously.
What can regional customers expect from Bosch Building Technologies this 2020?
Our portfolio will increasingly feature video security cameras that incorporate built-in machine learning capabilities. Our solutions with built-in Video Analytics as standard will continue to evolve in their ability to repurpose captured video data for other uses than security alone.