Jarkko Huhtaniitty, Head of Hybrid Work Solutions Southern Europe, Middle East and Africa (SEMA) at HP Poly tells CNME Deputy Veronica Martin, how their portfolio of solutions have been designed to enhance productivity and to provide robust security to users in our new work from anywhere world.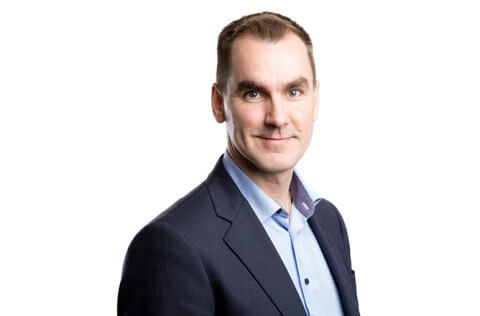 What innovative solution has HP Poly developed to support businesses and individuals in adapting to the evolving hybrid work environment, and how do they enhance collaboration and productivity?
Examining the current market dynamics is of utmost importance.
The shift back to office-based work has brought to light a significant disparity. During the pandemic, remote work setups became a necessity, prompting individuals to create personalized work environments for optimal efficiency.
However, as the workforce returns to the office, a clear distinction arises, highlighting potential operational challenges within the current office configurations.
According to a Frost & Sullivan research only 10% of the meeting rooms worldwide are enabled for video conferencing.
The lack of the right tools can make individuals lose confidence in going back to the office as they worry about not being able to achieve the same level of productivity as they would when working from home.
We are constantly engaging in conversations with our customers to gain insights into their requirements for productive and secure work, regardless of their location – be it the office, home, or on the go.
Our solutions are carefully crafted to address all these needs, following a persona-based approach.
Through thorough research into various work profiles, we've customized our solutions accordingly. Poly's integration to HP has uniquely positioned the company as the only one in the market offering a full spectrum of video conferencing, headsets, phones, and computing choices.
This enables us to provide comprehensive solutions that ensure effectiveness and security in remote and hybrid working scenarios.
In a global context where only 25% of workers believe their companies will provide the right tools for a successful hybrid work journey, how is HP Poly addressing the unique needs of organisations of all sizes to keep hybrid workers connected, productive, and secure?
We conducted a unique global study called the Work Relationship Index, with the participation of approximately 15,000 individuals from 12 countries, including business leaders, IT decision-makers and employees.
The research was commissioned to provide insights that will help companies and leaders successfully navigate the changing world of work.
A key finding was the desire for employees to have a say in the technology used at their workplace, whether it is in the office, at home, or while on the move.
This gave us further insights in terms of the solutions that we would need to develop, and guided us in developing tailored solutions, recognizing that a one-size-fits-all approach was not going to be effective.
Understanding diverse work styles is crucial for providing suitable solutions, as employee satisfaction hinges on this understanding.
We strongly believe that achieving this is pivotal not only for enhancing a company's brand image, but also for attracting and retaining talented individuals.
Could you provide insights into HP Poly's hybrid work solutions and services, and how these offerings play a role in supporting the future of hybrid work?
We've recently introduced a range of new products. A couple of weeks ago, we held the HP Imagine event at our Palo Alto headquarters, which was attended by members of the media.
Over the course of this day-and-a-half event, our senior management team outlined our strategic vision and direction, and we also revealed a multitude of fresh products, solutions, and services.
HP Poly has created cutting-edge meeting analytics tools driven by AI and our dedication to improving communication is clear through features such as noise reduction and voice enhancement.
These capabilities prove invaluable when conducting video calls in noisy environments. Furthermore, at HP Poly, we offer video framing software that can intelligently identify the current speaker in a conference room.
Consequently, the video stream automatically adjusts to focus on the speaker rather than displaying the entire conference room.
Our goal is to ensure that everyone, whether physically present or dialling in remotely, feels seen and heard during meetings.
A significant challenge in current video meetings is that, often times, remote participants would feel disconnected from the discussion happening in the room.
Our software layer, integrated with the hardware, facilitates effective communication, ensuring that our portfolio of solutions delivers equal experiences no matter where employees work from – that everyone is both seen and heard clearly during meetings.
How has the merge between HP and Poly benefits hybrid workers and organizations, and what specific solutions have been developed through it?
The union between Poly and HP bolsters our workplace collaboration solutions, through technology such as industry-leading video conferencing solutions, cameras, headsets, and more.
In fact, HP stands as the only brand in the market offering integrated computing, audio, and video solutions.
The engineering teams from Poly and HP are merging their expertise to develop a seamless, comprehensive solution, setting us apart from others in the industry.
As an example, we recently unveiled the Windows meeting rooms, featuring HP's compute technology for robust and high-performance computing capabilities.
We have integrated the HP Wolf Security layer, ensuring powerful cybersecurity measures and comprehensive reporting.
Recognizing the complexities of managing security in a hybrid work environment where employees often connect from external networks, we have prioritized building strong hardware and endpoint device security within our solutions.
HP has established itself as a leader in this aspect with the HP Wolf Security features.
The full integration of Poly and HP has generated considerable excitement, particularly as the challenges of hybrid work continue to be a top priority for senior management and boards across industries.
Addressing these concerns has become a focal point in our discussions with customers and we are confident that we have the services, solutions and innovations to improve the hybrid work environment for their end-users.