Dr. Alaa ElShimy, Managing Director and Senior Vice President of Huawei Enterprise Business Group, Middle East and Central Asia, spoke to CNME Editor Mark Forker during GITEX Global 2023, to discuss their AI capabilities, the need for Gen AI to be regulated – and their market performance over the last 12 months.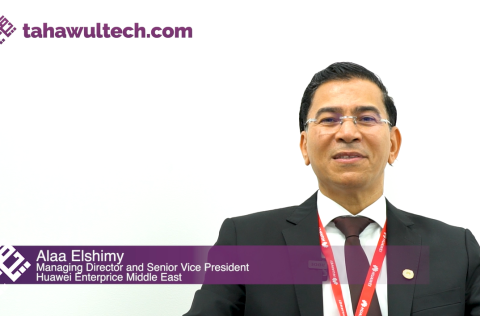 Huawei are one of the most innovative companies in the world.
The Chinese ICT vendor has innovation embedded into its DNA and continues to push the boundaries as to what's possible when it comes to technology.
Dr. Alaa ElShimy, has played a key role in Huawei's success across the Middle East region since joining the company in 2016.
In a candid interview with CNME during GITEX, ElShimy gave an insight into what Huawei was showcasing at the tech conference.
Our theme at this year's GITEX is 'Accelerate Intelligence'. We are showcasing our capabilities in AI and the cloud, and we are demonstrating solutions that we have developed for our customers over the last 12 months. From a cloud perspective, we have the Pangu 3.0 here at GITEX, and our cloud strategy is centrally based on 'AI for Industries', which essentially means we build vertical solutions based on AI across all key industrial verticals," said ElShimy.
ElShimy highlighted how Huawei gives their customers the flexibility and autonomy to customize solutions best suited for their market requirements.
"We have five models within our cloud portfolio, but within each model we have customized AI models for different industries, and on top of that we have a plethora of applications that users can avail of, which is very unique. In terms of our enterprise business, we focus across 10 different industries, such as banking, transportation and utilities to name a few. For these 10 industries we have developed our ecosystem of partners and launched over 100 different vertical applications, which again is very unique," said ElShimy.
Huawei has firmly established itself as a leader when it comes to sustainability and digital power.
"We are helping our customers produce green energy that is equal, or higher than what they consume. If it's equal then we are talking about Net Zero, and if it's higher, then they can become more profitable by going green. At GITEX, we are showcasing our Net Zero framework, with COP28 happening there is huge momentum across the region, and customers can come and demo the solution and see how it can help them transform their sustainability initiatives. We have already generated more than 850 billion kilowatt of green energy, which has saved more than 35 billion of kilowatt of energy and saved more than 50 million tonnes of carbon. That's a perfect illustration of the impact of Huawei's commitment to greening the economy, and being a leader in sustainability," said ElShimy.
The theme at GITEX was AI Everything, and there was inevitably a lot of discussion on Generative AI.
ElShimy highlighted how AI is going to be a $15.7 trillion marketplace by 2030, according to a report published by PwC.
He stressed the need for proper regulations to be implemented in order to protect businesses and end-users.
"AI and Generative AI is extremely important for all of us moving forward in the technology ecosystem. I firmly believe it will bring a lot of value to society, to businesses, and to all major industry verticals, it's a revolutionary technology. However, there remains a lot of myths and misperceptions about AI in terms of what it can and can't do. I do think the biggest issue, or concern being raised is in relation to the regulation of AI. I would encourage all the regulatory authorities across the world to come together, and implement the right practices and frameworks that are needed to make sure Gen AI is used responsibly. It can be done, in Europe, GDPR has been a great success and shows what can be achieved when governments work together, and that data protection framework is so important, and it was needed, and it's the same with AI, we need proper regulations. The benefits and potential of AI is enormous, but again I must stress that it has to be regulated properly," said ElShimy.
Huawei's market performance has bounced back in 2023, after a difficult fiscal year in 2022.
ElShimy stated that Huawei's focus on the SMB segment of the market across the Middle East has played a critical part in their success over the last year.
"We've enjoyed great growth over the last 12 months in the Middle East. Globally, in H1, we generated $43bn, and our profitability grew by 15%. Our performance as a company has been very strong, especially in the Middle East. In terms of our strategy, we are focused on helping commercial and SMB customers. There is a burgeoning start-up ecosystem, and governments all over the region are investing their resources into the SMB space. We have created two different departments, one to look after the commercial segment of the market and the SMB side. We are developing systems that are easy to configure, implement and integrate into whatever system customers have regardless of the industry vertical. With our solutions you don't need to be an IT specialist, you can just take it and drag it. Alternatively you can have it in the cloud, which will save you money, and we also provide training for our customers and partners to drive change within their organisation," concluded ElShimy.