Peter Oganesean, Managing Director, Middle East at HP, spoke to CNME Deputy Editor Veronica Martin, about the company's mission to empower customers to meet the demands of the hybrid work landscape, the significance of its acquisition of Poly, its proactive approach to sustainability – and its commitment to achieving digital equity.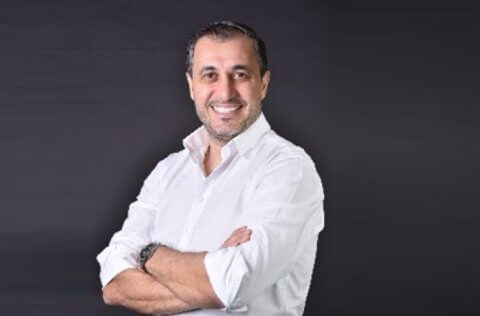 How does HP's Future Ready Portfolio of solutions and services contribute to enhancing collaboration and productivity in the remote work environments?
The world has transformed in the wake of the pandemic, revealing our ability to maintain productivity while working remotely.
Our working habits have changed, and our customers are sharing with us that their evolving needs expecting us to provide innovative solutions that will be able to enable these shifted work requirements.
At HP we have created an end-to-end portfolio tailored to meet the demands of this hybrid landscape. This is what we showcased at this year's GITEX Global.
Our goal is to empower our customers to work productively and securely from any location, whether it's the office, home, a coffee shop, or an airport.
Modern customers seek flexibility and the ability to utilize various devices to stay productive wherever they are. Our current efforts revolve around providing comprehensive solutions that enable them to achieve precisely that.
Prior to the pandemic, we were primarily focused on the computing and printing businesses, where we have been industry leaders.
As we recognized the world changing, we added a crucial missing element in our end-to-end portfolio with the acquisition of Poly, a leading company in communication and collaboration solutions.
Through this strategic move, we elevated our overall value proposition to customers, addressing a broad spectrum of their requirements. This comprehensive offering spans computing, printing, peripherals, and communication and collaboration devices, enabling them to seamlessly operate from both home and the office.
Could you explain the specific features and benefits of HP's security solutions, particularly HP Wolf Connect, in ensuring the safety and security of both remote and on-site employees within the work environment?
The hybrid work environment offers significant opportunities but also challenges. As customers increasingly choose to work from various locations, the aspects of productivity and security take on paramount importance.
Ensuring the safeguarding of devices and data when customers connect from diverse locations can be a daunting task for IT managers. This is precisely why, at HP, we offer dedicated assistance in the realm of cybersecurity through HP Wolf Security.
Our top priority is to ensure that customers can securely connect from any location. While companies invest significant sums in cybersecurity, there's often an oversight when it comes to endpoint devices.
HP Wolf Security is designed to fill this crucial gap by providing enhanced protection for devices beyond the confines of traditional networks. It complements the cybersecurity measures that IT managers have in place.
Furthermore, HP has introduced an innovative feature, HP Wolf Protect and Trace, which offers comprehensive device security. This feature not only tracks HP computers but also prevents unauthorized users from gaining access to files and documents on the network.
Users can also leverage the capability to remotely geolocate their devices from anywhere in the world. This means that in addition to their personal systems, users can have full confidence in the security of their actual devices.
Can you provide insights into HP's AI focused innovations and how they're shaping the future of the technology industry?
Artificial Intelligence (AI) is not new to HP. We have AI applications and agents already available on our devices.
We have now rapidly entered a moment when technology is moving at the speed of imagination and creativity has no constraints. The age of AI is going to create new product categories, digital services, and massively improve the productivity in our product categories.
We believe that the biggest growth opportunities are in personal systems.
At HP, we are enthusiastic about the field of Generative AI, which will enable personalized experiences for customers. It will reduce the latency, protect data, improve the security, and eventually reduce the cost for companies.
Customers' personal computers are eventually going to become their personal smart companion because with Generative AI, it can assist, analyze, and anticipate the needs of customers.
HP Poly has also demonstrated leadership in AI and machine learning technologies by seamlessly integrating them into audio and video solutions.
This integration has resulted in the introduction of features such as noise reduction, voice enhancement, meeting analytics, and AI-driven cameras, all aimed at enhancing the clarity and quality of video calls.
In addition to these innovations, HP is embarking on a collaboration with NVIDIA, becoming one of the first companies to deliver dedicated workstation solutions powered by the NVIDIA AI Enterprise software platform in the coming months.
This venture is poised to establish a new benchmark for the most advanced AI workstation globally, simplifying the process of creating and customizing private AI models.
How is HP actively addressing environmental concerns through its product design approach, emphasizing energy efficiency, recyclability and responsible sourcing? Additionally, can you elaborate on HP's commitment to digital equity and the steps taken to fast track this initiative?
This is one of the most critical topics that transcends beyond business. HP's ambition is to become the most sustainable and just technology company by 2030.
We've laid out a robust strategy that extends well beyond products and encompasses sustainability across three key pillars: combating climate change, safeguarding human rights, and expediting digital equity.
The main goal in our fight against climate change is to achieve net zero carbon emission throughout the entire value chain.
We want to counteract deforestation through innovation, which involves creating products that are best for circularity. On protecting human rights, we want to create a culture of equality, diversity and inclusion.
HP's unwavering commitment to achieve digital equity for 150 million individuals by the year 2030 is evident by our active involvement in a multitude of initiatives globally, and in the Middle East.
Recent instances include HP's partnership with Cambridge for an EdTech fellowship in the Gulf region, the Changemakers Challenge—a collaborative initiative with the Expo School Program designed to promote girls in science, with the winners earning the opportunity to present their ideas at COP28.
Furthermore, HP IDEA has been introduced, focusing on digital pedagogy for Arabic-speaking educators.
The most recent addition to our initiatives is the HP Gaming Garage, a freely accessible online Professional Certificate program in Esports Management, Game Design, and Programming.
This program is strategically tailored to prepare learners for career opportunities in the gaming, media, and ICT sectors and is available in both English and Arabic.
Another initiative is around gaming, an area which is growing exponentially currently. We partnered with edX, the leading global online learning platform, to provide a new online Professional Certificate program in Esports Management, Game Design, and Programming, to bring cutting-edge skills to learners globally.
Available in English and Arabic, the new Professional Certificate program includes over 60 curated modules designed to prepare learners for jobs in the gaming, media and information and communication technology (ICT) sectors.
HP covers the full cost of enrollment in the certificate track for all learners. HP LIFE, is another program, where we offer free business skills training for students, educators, entrepreneurs, and lifelong learners.
We collaborate with our partners and HP experts all over the world to create highly relevant, business-focused courses that are free to use for everyone, everywhere.
There are over 30 self-paced free-of-cost courses which are modular, interactive, and full of information.
There are also practical exercises that enable individuals to develop the skills that can be transformational and open up new opportunities for a successful future.
Within the education sector, HP Futures is another example of an initiative we launched to shape a more equitable future for education.
Developed in partnership with the Global Learning Council, this initiative engages key leaders across the education ecosystem, from academia to government, to explore technology-driven solutions to bridge the digital divide.