Shane Grennan, Senior Director, Partner Sales & Business Development at Fortinet tells CNME Editor Mark Forker how the company is embedding AI into all of its products, the evolution of their channel strategy across the Middle East region – and why they look for 'focused' channel partners.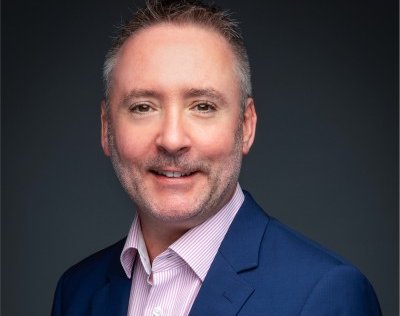 Shane Grennan has witnessed many changes in the IT landscape since he began his career with IBM back in 1996.
In the decades that have elapsed, Grennan has distinguished himself as one of the most respected channel leaders in the industry, and has held senior positions at companies like Nortel, Eircom and Cisco during a distinguished career.
However, he is best known for his role with cybersecurity leader Fortinet, where he is currently a Senior Director.
At GITEX Global, AI was the central theme of the conference, and in a candid exchange with CNME, Grennan provided an insight into the company's AI strategy.
As Grennan pointed out, AI has the ability to resolve issues that humans simply can't.
"The promise of AI has always been not only in cybersecurity, but across the board to tackle the really big problems that humanity can't overcome on its own, or if humans did tackle them then they would take years as opposed to seconds. The volume of traffic and the volume of content in our customers environment now has to be inspected, because we have gone from a sampling inspection to zero trust, and that generates a huge volume of workloads that humans simply can't deal with. We have to drive automation, but it's not automation using traditional software, it's automation using AI," said Grennan.
Grennan admitted that Fortinet is proactively working to embed AI into every one of their products going forward.
"The vast amount of content, traffic and emails means that everything has to be analysed and that requires a decision to be made about whether or not something can proceed, or if it is good, or bad, and that analysis has to be done using AI, and that is what we are very focused on. Traditional security tools also produce vast amounts of data in terms of logging and alerts that need to be correlated, and when they are correlated they have to be analysed again, so it's just a perfect storm of massive amounts of data in nearly every customer environment from the very large to the very small. We're working to embed AI into all of our products, those that are deployed on the customer site, those that are deployed in the cloud and managed by the customer, and also in our own SaaS solutions. We have witnessed that our customers are achieving a better security posture using machine learning and AI, which is obviously critical for their business aspirations," said Grennan.
There is no debating that Gen AI creates unlimited opportunities for driving new innovations, but many security professionals have shared their concerns over the privacy issues with Gen AI using an open system.
"The solutions developed by us, and other cybersecurity vendors are very focused and they are not as open as those systems. They are either deployed on the customer site within their control, and the limits of what they do are well-defined, so in one way it's like buying a firewall if you want it to be open, then it is open, but if you want to configure it to be closed then it is closed, so it's totally in the control of what the user wants to do. You don't have to feed it into an open cloud system to get back answers on correlations, you buy a solution from Fortinet and that goes either into their datacentre, or their private cloud datacentre," said Grennan.
Grennan moved to the Middle East to drive Fortinet's channel ecosystem across the region in 2019, and in those four years the cybersecurity leader has enjoyed excellent growth under his tutelage.
"In 2019, when I moved to the Middle East, we had four people in the channel team covering the region, but now we have 40. We have invested a huge amount in the team that interfaces with our channel partners, and that includes channel account managers, systems engineers, business development personnel, and a renewals team to help our partners meet their renewals quota. We have diversified and deepened the teams that interfaces with our partners, and the one word we use most often is focus. We want to give each person in that team a smaller set of partners to focus on so they can better understand what the partner wants to do in the future and how they want to grow," said Grennan.
Grennan also highlighted how there has been a huge shift to managed services from their channel partners.
"We have seen a huge number of our partners adopt managed services, but if a partner has not done that before then it can be quite daunting to go from pure systems integration to building, designing, and launching managed services. However, we have expertise within Fortinet to help our partners do that," said Grennan.
In terms of the evolution of Fortinet's channel partner program, Grennan said it was built on three key pillars, which are systems integration, cloud and managed services.
"The market in the Middle East is definitely shifting, every week it feels like there is a hyper-scaler announcing it is opening a new datacentre, or entering into a new country, so it is definitely more mainstream than it was two years ago. What we ask from partners is to give us a better understanding on what technology areas they want to go to in order to grow their business. We also have a range of specialisations in solution areas so they can achieve those specialisations, which are above sales and technical qualifications, and that signals to the market that they have expertise in a particular solution, such as security, or operational technology to name a few," said Grennan.
In terms of what they look for in their channel partners, Grennan once again said 'focus'.
We want focus from our partners, and we have 4 tiers in our partner program. Now, some partners are quite happy in the bottom tier because it is low commitment, and typically lower revenue and that's what some partners want. It's a pyramid with a very wide base at the bottom, and not every partner wants to invest and become an expert partner. We have partners that are completely security focused, and we have partners that are very focused on things like the SOC, and others completely focused on cloud. In addition to this, we also have system integrators who do complete datacentre refreshes with storage compute, and that's the nature of the market here in the Middle East. However, at Fortinet we are fully focused on continuing to evolve our channel partner program and develop solutions that help our customers overcome their challenges," concluded Grennan.