Mohammed Darras, Channel Leader, META & SOUTH ASIA, Extreme Networks & Steve Lockie, Group Managing Director, Westcon-Comstor Middle East, discuss market trends and channel development plans.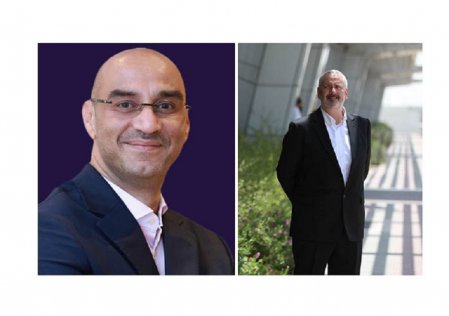 The current unprecedented times have made organisations across the globe adapt quickly to new ways of working. How has Extreme Networks helped in addressing the needs of organisations to have solutions that not only offer quality experience but also business resilience?
Mohammed Darras: There is still a level of uncertainty about what the future will look like. But, one thing is clear and it is that long-term business success requires new levels of organisational agility, flexibility, and security. This is why we have focused on providing cloud networking solutions that offer business resilience as well as a quality experience to not only survive but thrive in the future.
With hybrid working likely to become the norm, businesses need to give their workforce access to reliable connectivity anywhere and at any time. This is where cloud-driven networks step in to give organizations a way to centrally orchestrate and support highly dispersed remote and dynamic campus environments, while at the same time unlocking new potential through the integration of AI and machine learning. Thanks to AI and machine learning, businesses receive intelligence that can inform future strategies and decision making.
To give businesses even more intelligence we became the first networking company to offer unlimited data to our cloud customers. With unlimited data, our customers have unprecedented access to historical data to help inform future planning. For example, a retailer can review data from Dubai Shopping Festival year-over-year and make strategic decisions in the long-term that result in increased sales.
How did Westcon-Comstor transform its strategies & plans for 2020 to adapt to the impact of COVID-19?
Steve Lockie: There have been huge shifts in the consumer demand patterns during 2020 as companies were continuously required to adapt to new and uncertain market conditions. The need for remote working led to a surge in requirements especially for Unified Communications and Security Solutions. The customers have more aware than ever to have proper solutions in place to maintain business resiliency. We have seen a big growth in business managed by our Global Deployment Solutions (GDS) team. On the other hand, the small business segment has been the hugely impacted due to the pandemic. We have made continuous investments into our GDS team to enhance their capabilities but at the same time we have continued to assist our partners targeting to SMB customers in creating new demand. Also, a big priority for us has been also to maintain healthy cash flow in the business by keeping quality credit checks in place.
Our focus on digital distribution and the investments we have made into our digital capabilities over the past years helped us conduct business with our partners with almost no disruption. As most of our partners were working remotely, we created a lot of awareness for them to take leverage of our digital platforms such as PartnerView which allows them to access and manage all quotes, renewals, order tracking and history, and RMA submission with the click of a button.
As a socially responsible organisation, we continued supporting the venerable individuals impacted by the pandemic through our CSR initiatives.
As one of the world's fastest-growing cloud-managed network providers, how do you foresee the growth of this market segment and what opportunities does it hold for the resellers?
Mohammed Darras: According to Omdia's 2020 Cloud-Managed Networking Report the cloud-managed share of the total networking market is expected to triple by 2024. This is no surprise. For us, the cloud is the future of networking and it's on a growth trajectory.
With 90 per cent of our business undertaken through the channel, we are responsible for providing resellers with best-of-breed, cloud-driven solutions so that they can take advantage of the market opportunity. We're therefore rapidly cloudifying our edge-to-core, wired and wireless solutions portfolio and delivering greater deployment flexibility and unlimited data insights to allow resellers to help organisations transition to and benefit from the cloud.
When carrying out sales, however, resellers need to continue to offer flexibility, especially in this climate – to not only benefit themselves, but their customers. Be that by always being on hand to help customers find the best cloud networking solution for them to enable remote work or by updating payment terms to offer greater financial flexibility.
What are the priorities for Westcon-Comstor in 2021 and what future initiatives are you planning to take during 2021?
Steve Lockie: At Westcon-Comstor, we are a 'digital first, data-driven' organisation and we will continue to make further enhancements through investments into our digital distribution platforms. We understand that our partners will need our continued support in the new normal and we will continue to assist them through our value-added offerings such as Marketing as a Service (MaaS). We will continue to further build upon the deep relationship we have with our vendors by continually investing in our technical capabilities and by aligning ourselves to their priorities.
Over the past years, we have continuously invested in setting up of local entities in various countries across the Middle East thus offering benefits such as door-to-door delivery and local invoicing to our partners. We have built strong in-country teams with good market knowledge across the region who are further supported by our highly experienced teams based in Dubai as well our central functions in Europe. Remaining close to the customers and maintaining excellence in customer service & support will continue to be our topmost priority.
Extreme Networks has been recognised as a Leader in the Gartner 2020 Magic Quadrant for Wired and Wireless LAN Access Infrastructure for three years in a row. What according to you are key differentiators that have set Extreme Networks apart from other players in the market?
Mohammed Darras: In summary, it's our expansive, cloud-driven portfolio and customer-centricity which has helped us to differentiate ourselves from others in the market. Thanks to providing complete and differentiated access layer applications, as well as offering a high-level of global service and support, we have continued to be at the forefront of the Wired and Wireless LAN Access Infrastructure space. In addition to this, we have maintained strong relationships with our channel and customers.
We have also recently become the first networking company to offer universal platforms for enterprise-class switching and wireless infrastructure. Given requirements are evolving rapidly in today's world, universal platforms have been crucial to giving organizations a way to choose from different operating systems so that they can improve product usability, for example. With universal platforms, customers do not have to rip and replace – helping them to save money.
What are some of the key channel enablement initiatives that Westcon has conducted along with Extreme Networks?
Steve Lockie: Since the onset of the pandemic, we have been assisting our partners in creating new demand through our Marketing as a Service (MaaS) offering which includes creation and delivery of tailor-made digital campaigns focusing on Extreme Networks to generate leads. We have also recently conducted some very successful initiatives virtual events & training such as the 'Westcon & Extreme Networks EDGE Virtual Partner Summit' which was attended by over 150 resellers from across the region and the 'Triathlon series' for which we saw more than 80 resellers during each of the 3 training sessions. We also had Extreme Networks as one of the key sponsors for our very successful IMAGINE Middle East event. We will continue to further enable our partners through our upcoming initiatives during 2021.
Can you highlight how ExtremeCloud IQ has been a game changer and has set a benchmark for Value Proposition in the Cloud Management Industry?
Mohammed Darras: ExtremeCloud™ IQ offers a completely fresh approach to end-to-end network management and operations by delivering a fully integrated platform that simplifies the design, deployment, and security of networks from the edge to the data center, while simultaneously unlocking valuable IT and business insights. Thanks to its abilities, it can allow organizations to make huge savings – in fact, it can save up to 30 per cent CapEx over any other solution on the market.
Unlike competitor offerings, ExtremeCloud IQ is available in three deployment options that support one goal: to provide customers with maximum flexibility, continuous innovation, and consistent user experience. In fact, customers can choose to deploy the solution in any major data center environment such as AWS/GCP/Azure, or select local cloud options.
Finally, it also offers real-time development, continuous machine learning and AI innovation, and is ISO27001 certified to accelerate and protect a business' network environment.
What are the key strategic focus areas for Extreme Networks and can you outline your joint channel development plan with Westcon for the next year?
Mohammed Darras:  Having doubled our investments in the Middle East in 2020, we are laser focussed on developing our business in the market by engaging with new channel partners and strengthening our relationships with its regional distributors.
As a channel-centric company, we are committed to providing both VAR and MSP end-users in the META region with cloud-based, end-to-end networking solutions that meet their needs – and those of their customers. For us, this involves building SaaS channels so that organizations are given a cost-conscious solution to maintain consistent connectivity. Such channels also offer businesses the flexibility to expand or reduce network services on-demand depending on their individual needs, without sacrificing performance.
With Westcon, we are continuing to align our joint objectives to maintain growth in the META market to build upon the success which Westcon EMEA has experienced in growing its momentum revenue by over $7million, while at the same time, notably increasing its number of transacting partners. We are also continuing to create end-to-end effortless networking experiences with ExtremeCloud IQ. We are closely working with the Westcon ME team to continually enable our partners through our joint channel initiatives.