Veronica Martin caught up with Feras Zeidan, Regional Director META & South Asia at Mitel and Veer Passi, Group CEO at Kalaam Telecom Group to discuss how their partnership will benefit businesses in the region, the advantages of subscription-based cloud services and the different options provided to customers and resellers through this partnership.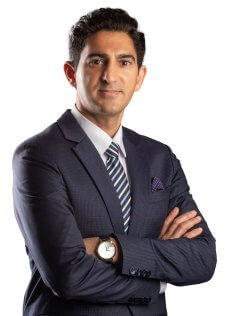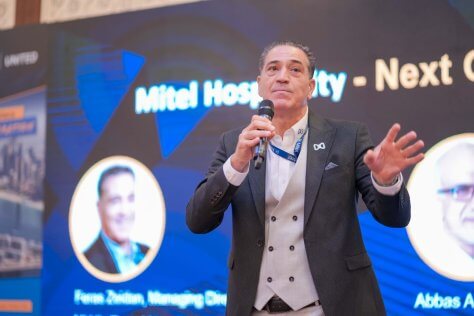 How will the partnership between Mitel and Kalaam Telecom Group benefit small to large businesses in the Middle East? 
Feras Zeidan: In the US market, the largest users (80%) of unified communication as-a-service and contact centre service are SMB and SME companies. In the North American and European market, this can go up to 2,000 users. In our market it goes up to 500 users. We believe that 80% of our business will be in the SME space and that will go up from 500 to 1,000 users if we speed up deployment, increase their productivity, reduce their costs while giving them visibility.
Veer: Statistically speaking, SMEs contribute almost 80% of the economy, so it is the market to capture. If you look at the size of the small and medium enterprises, this is the segment which will be key for us to meet our objectives and crack a large chunk of market share in the region.
What are the different options provided to customers and resellers through this partnership?
Veer: We believe Mitel is a great partner for a regional telecom operator like us. Kalaam is present in three markets in the region – Bahrain, Kuwait and Saudi, and has its points of presence in most of the other Middle Eastern countries. We are unique in a way, as we are focused more on the enterprise business and a very niche telecom player in the region, unlike the mobile operators, where probably 80% of their focus is on the consumer and 20% on enterprise.
For us, the major focus of our businesses is towards enterprise B2B. Over a period of time, as in all telecom business, telecommunication and the traditional services have become a commodity. We as telcos are moving from telco to technology space, so that we can be a managed solution provider for enterprises. That's where we were looking for a partner who is very strong in unified communication and complete communication suite as a journey, and we found Mitel to be the perfect partner.
Thanks to this partnership our customers have various options to choose. In the communications space, you have basic telephony, which is still probably 50% of the SME requirements, but as our customers are moving towards digital transformation, they need to have unified communication as a suite, which is the voice, video, messaging and mobility on the go all the time.
Our customers need call centre solutions which are more dynamic, with voice flow management, workflow dashboards and real-time omnichannel integrations. With the Mitel partnership, we are looking at capitalizing on their artificial intelligence, which is built in their conversational chat bots to be able to do sentimental analysis, because data is the king. If you really want to add value to a customer, we want to also make sure that we give them great insights of their business, which can only be done in this time by using data analytics and we were really impressed with Mitel's AI capability.
In addition, we want to make sure our services are secured, so we are ensuring that our partnership is also sitting on the foundations of Kalaam's certified and geared data centres and compliant to industry standards.
We are also aiming to host other Mitel solutions on public cloud. In Bahrain we are hosting on AWS cloud. In Kuwait we'll be hosting it on a private cloud and, when it comes to Saudi, we'll be looking at a public cloud, but the objective is that when we go to our customers, we are able to tick off both their organizational and operational requirements, their security value for money, making sure that we are part of their digital transformation and that our solution is a part of an easy integration with their IP strategies and journey. In summary, we feel that we cover 360 degree of voice and communication suite for the customers with this partnership.
Feras Zeidan: this partnership is designed to deliver flexibility and choice to customers and partners and support organisations whatever the path they take to modernize their communications – private,  public or hybrid cloud, on-prem – or the purchase model they opt for – CapEx or subscription.
Our target market is not only the customer, as we can also cater to Mitel partners and any other technology companies. In the UAE we have 7,000 registered computer companies, which can become Kalaam customers too.
What are the benefits of subscription-based cloud services offered by Mitel and Kalaam Telecom Group?
Veer: 90% of enterprises are either moving or transitioning towards subscription-based models and 53% of all software revenues are being purchased through subscription models. I think, given the way the economies and enterprises are currently moving towards a consumption-based model, it is reflecting that even the software companies are moving towards subscriber based model.
The advantage of Mitel is the fact that their subscription-based cloud services allow customers the choice of package, which adds flexibility to scale up and down and pay as you go. Both scale up and scale down, because in these times as the businesses are going through uncertainties, it allows them to scale up when they are getting aggressive into the market and if they are looking at restructuring, they can scale down.
Customers usually take a very heavy CapEx load for communication services. The fact that these services are already hosted on the cloud with partners like Kalaam, which can help mitigate these hassles by offering a complete end-to-end cloud-based solution. This model can go from very basic telephony to rich solutions and unified communication as-a-service or omnichannel. The customers are typically into contact centre as-a-service.
Most of the service industries like banking and insurance have an in-house call centre to cater to their customers and when they're servicing a mass market, they typically need complex contact centre solutions to address to complex customer behaviours in terms of communications. This partnership allows the customer to pick up those subscription based on the features they need. Another advantage of a subscription or cloud-based model is it allows them to give customers the latest updates and enhancements.
Feras Zaidan: Anything you do in life, it has to cater to the customer. You start with the customer, you have to understand the customer's vision and their future plans. You also have to understand what the common trends in their vertical industry are and where that industry is going. When we try to design what is the right thing to do for the customer, we take all those things into account. Every industry has its own requirements and we need to match them with the offerings we have.
How will Kalaam Telecom Group leverage Mitel's UCC and Contact Centre technologies to deliver managed services for enterprises and governments?
Veer: As a telecom operator we have got different cluster of services between cloud, security, traditional telecom and data analytics, but we always put ourselves into the customer's shoes. What do they need? Typically, they need someone who can come as a one-stop provider, who can  support their technology needs, so that they can focus on their core business.
These are support services they would like to outsource. We look into building an ecosystem of solutions, so we can offer the customer a 360 degree solution. We have around 6,000 enterprise clients in the region, so we have a captive audience out here and we want to make sure these organization move up on their digital journey.
We have created this ecosystem of unified communication & contact centre and we have also integrated it with our collaboration suite. When we go to a customer, our objective is to say as far as your communication needs are concerned in whatever form and shape it is, we are able to cover that whole journey. We are also aiming to leverage each other's capability as Mitel has a large channel base in the region.
One of the markets we are very keen on is Saudi as it's growing market for us, so this partnership will allow us to capture a large market base in Saudi and cater to the captive market base in Bahrain and Kuwait. We are looking at this partnership to be mutually beneficial to both and we are going after some of the large as well as small and medium enterprises in the region.
What is the role of Artificial Intelligence integration in Kalaam Telecom Group's customer experience strategy?
Feras Zeidan: AI is basically machine learning technology that allows the machine to learn, build, analyse and design along with big data. 30% of global AI use is actually in the contact centre and the customer experience space. At Mitel, artificial intelligence is primarily used  to improve customer experience and facilitate the contact center agents' daily work. For instance, chatbots  allow customers to benefit from 24/7 service for simple requests while  agents can focus on more complex tasks, resulting in greater satisfaction for customers.
The partnership we have created with Kalaam not only will use AI to address customer experience and contact centre related services, but will take Kalaam to the next level in integrating AI in other managed services business they do. AI can also be used in cybersecurity to predict where attacks are coming from, so it can actually tap into that to provide better security for Kalaam's customers. AI in the contact centre is just the beginning journey for Kalaam, but they will eventually integrate it on all the business processes they do and into the managed services.
Veer: AI in the customer experience space has recently evolved and is quickly getting matured in that particular space with the chat bots and the auto responses on it. We are going to the next level as AI gives you the sentiment analysis, information based on the questions the customer is asking and the conversations. When the customer calls, based on the responses, AI lets you know the mood of the customer.
Even the call centre agent's behaviour analysis is being captured now. Data is gold and that's what AI brings to the table, which is adding a lot of value to many industries.
How will Mitel and Kalaam Telecom Group's partnership address the increasing demand for UC, UCaaS and CCaaS solutions in the Middle East region?
Feras Zeidan: The purpose of this partnership is all about addressing increasing demand for UC, UCaaS and CCaaS. What makes Mitel unique is its pragmatic approach to innovation. While every business will eventually migrate to the cloud, they will do so at different rates and in different ways. Mitel provides communications platforms that help organizations maximize productivity today while preparing them to capture the benefits of emerging technologies tomorrow. With Kalaam we will especially focus on  industries like healthcare, retail, education, banking and financial services.
Veer: Each industry has its own dynamics out there. We got hold of some companies across different industry verticals from aviation to retail and started understanding them, as all of them face a similar challenge or bring similar opportunities.
We will support you from advising what to do and give you a tiered approach towards your journey. We also have organizations who are not even part of their journey, so how do we trigger them? Because eventually those companies won't exist and that's where we come as a telecom operator. What we are doing is we are bundling our telecom services and trying to make solutions with Mitel flexible options. Your entire journey comes along with it and this is how we are aiming to compliment telecommunication and technology.