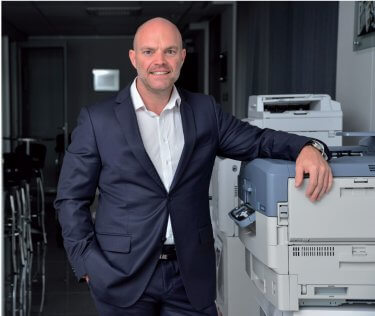 Multiple industries, including the retail sector, increasingly become digitised. Reseller ME speaks to Neil Rom, Sales Director – MEITA Region, OKI Europe, to find out how the demand for printed and visual communication materials has evolved and what different offerings the firm has in store for the retail sector.
How important is the role of visual communication materials in enhancing customer experiences?
External signage, in-store displays and POS materials are vital in attracting customers to the store and helping them navigate around the best offers, keeping them inside longer. Signage only works now if it combines eye-catching design with frequently changing, relevant offers. Additional signage creates a positive customer experience and helps to build the perception of a professional and appealing store. Market research suggests customers spend more in shops they find easy to navigate. In-store signage helps provide a positive customer experience that translates into increased basket value.
As multiple industries, including the retail sector, increasingly become digitised, how has the demand for printed and visual communication materials evolved?
Attracting customers to the shop and helping them navigate through the different departments and offerings in the store is one of the essential purposes of the visual communications. Today's retailers must be smarter than ever to find new ways to attract customers. Online shopping and the rise of omni-channel commerce have changed the stakes and drawing customers into traditional shops is becoming more difficult than ever. OKI has been there and will continue to be there throughout this evolution. We understand the urgent need to drive traffic to stores and convert this to revenue – and then ensure the customer keeps returning.
How have you innovated to ensure that your offerings are addressing the demands of today's retail sector?
When it comes to POS and signage for retail environments, OKI's LED printers and software solutions provide shops with superior print quality combined with flexibility. Now retailers will be able to print anything they need in their own store, whenever they need it. No wastage, no storage issues. With our solutions, stores can have their marketing materials right away, whenever the business needs them most, rather than whenever external print partners have an available slot to complete a job! Most importantly, retailers can do it all using their standard OKI printer, with no need for specialist design skills. That's the same device they can use for their invoices, orders and other back-office needs. OKI's printers enable retailers to reprint and adapt signage in minutes, even on weather-proof media, creating up-to-date offers that drive traffic into stores.
What are the different offerings OKI Europe has for the retail sector? Which retail segments are you focusing on?
OKI's printers produce 1200×1200 dpi resolution on a range of different media types, weights and sizes. You can produce small price tags to 1.2m hanging and floor banners. Print on pre-cut media for door hangers, bottle collars and much more. OKI's printers can even print on waterproof and UV resistant media maintaining a professional finish and exceptional colour vibrancy! OKI's retail solutions suit the needs of a variety of different retail environments and across many subverticals, including hypermarkets, garden centres, automotive, furniture, leisure stores, and fashion. From shelf signage, including price-tags, labels and almost any pre-cut media formats, to self-adhesive floor stickers, eye-catching posters, promotional displays, gondolas, double-sided banners, and waterproof media application, all this and more can be done using OKI's compact LED devices.
What is your go-to-market strategy for these solutions?
Building on our thorough knowledge of retail and our valued partnerships within the industry, OKI can tailor the right solution for the business, combining the best printing devices, software, media, accessories and service. From our compact desktop printers to OKI's smart printer and MFPs, our portfolio offers the right device for every store and head office. All provide professional quality output on an unrivalled range of media weights – which means no expensive outsourcing costs. Working with some of the world's top retailers, OKI has developed a range of innovative printers and retail solutions to help businesses work quicker and more efficiently while maximising their productivity, reducing costs – and ensuring that when customers come through the door, the store is able to make the most of every opportunity to convert footfall into revenue.
What kind of customer enablement initiatives do you have for these solutions?
With OKI printers, retailers don't have to outsource their in-store signage printing needs when they can print what they need when they need it with OKI's C800 Series printers. These ultra-compact, cost efficient A3 colour printers for retailers feature innovative, in-built digital LED technology, delivering high-speed, high-quality results on demand, in-house on an unrivalled range of media.  There's no longer a need for large format printers with additional cutting equipment, or specialist printing devices. OKI provides fast, reliable solutions for a diverse range of applications, to help retailers communicate and engage with customers instore.
As a company, what is your take on digital transformation?
We've experienced how the internet has accelerated the shopping process. To compete with the growing e-commerce industry, traditional retailers must respond immediately to circumstantial changes, for example key events or a shift in customer demand. They must also stay on top of inventory levels and ensure the back office works with utmost efficiency to integrate with online sales. Today's retail industry has never been more competitive, even with its digitisation, so having the advantage of attractive signages is still a must but now needs more flexibility, availability and diversity.
How do you see the print industry evolving in the next twelve months? What role will OKI play in this transformation?
The print industry will focus more on delivering comprehensive and full solutions across all sectors, even if more challenges occur in the industry. OKI will continue to partner with the smart retailers who need sustainable and straightforward print solution to attract sales, cut costs, and deliver memorable experiences for customers. Also, as the pioneers of the LED technology in the print industry, we will continue to develop and improve our printing solutions and technology to deliver the superior quality on the unrivalled range of media for our customers, in retail and beyond.