CNME Editor Mark Forker spoke to Niranj Sangal, Group CEO at OMA Emirates, in a bid to find out how the payment solution provider is empowering its customers to do more following the launch of its cutting-edge OMA Digital Marketplace and OMA Property Management solutions.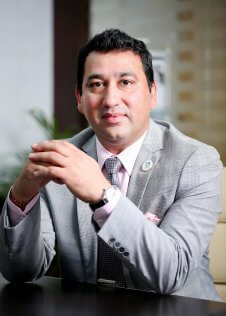 OMA Emirates has fully established itself as a regional leader in payment processing solutions and has become the 'go-to' player for many businesses in the UAE. In your opinion, what it is that ultimately differentiates OMA Emirates from other payment solution providers?  
 We believe in providing quality service keeping to minimal cost. Our products differentiation is based on price, performance, reliability and service. Our experienced research team works on adapting and implementing new and innovative technologies, we are independent in providing any technical implementation or development as everything is done in-house.  
The OMA Digital Marketplace Solution has really struck a chord and resonated with the market here in the UAE. However, can you outline to our readers what the unique capabilities of this solution are?  
OMA Marketplace module features a fully configurable posting screen with custom product fields. OMA Marketplace solution provides a new channel whereby retailers can interact and engage with customers by offering a broad assortment of products and services at competitive prices. 
Our solution covers all business verticals from the real-estate, pharmacies and educational sector. We provide merchants with the option to post their products either individually or in bulk. 
The proposed modules include advanced matrix-based reports and analysis, advanced risk assessments and due diligence intelligence, on-going risk exposure monitoring, IOS and android mobile application, web interphase, backend management module, SLA monitoring module, payment gateway interphase, SMS and e-mail campaign management module, artificial intelligence module and loyalty modules. In addition to this, it also has a dynamic API gate which makes the system more versatile and allows the platform to integrate and interact with any of the existing software and hardware.  
In addition to this, the OMA Property Management solution has been specifically designed to make the rental experience simple and profitable. Can you provide us with more information as to how your suite of solutions really enable real estate companies to manage their operations effectively?  
OMA Property Management solution is designed to streamline front office functions for any real estate, offering comprehensive services to ensure that the rental experience is simple and profitable. This solution enables you to manage your real estate operations as effectively as possible, our solution is compactable for small, medium and large-scale entities. 
Areas served includes online lease renewals, payments, maintenance, property advertisement, notifications, document submissions, billing and accounting, lease administration and facility management. 
In today's competitive market, the quality of service provided to tenant retains the tenant, our solution increases the communication line between both the landlord and the tenant's interaction via mobile application. 
This platform supports a variety of residential, industrial, and commercial property type, and can scale up or down, depending on property portfolio size. OMA Innovative property management software can automate manual process, save time, and increase productivity for the organization. 
Every industry and business have been affected in some way, shape or form by the ongoing global COVID-19 pandemic. How where OMA Emirates impacted by the crisis, and how did you manage to maintain business continuity?  
The COVID-19 outbreak is a global pandemic, and it has caused widespread economic hardship for all business and consumers. The current pandemic has compelled all to use technology. OMA Emirates innovative solution including the marketplace has helped us to overcome the situation with a hike in sales. 
OMA Emirates global presence allowed us to develop and manage critical solutions including those within the banking sector, and we established an SOP and had an existing BCP plan. That ongoing process helped us to overcome the initial stage of COVID-19 with minimum impact and without any SLA breach. Our R&D team have made quick changes in the existing BCP to cater for the COVID protocol.
What are your primary objectives and goals for the remainder of 2020? 
As per our 'OMA Technical Strategy2020' which was published in January, OMA R&D team was directed to be concentrating on the technological enhancement to reduce human intervention in daily operations and banking transaction with the help of technology. 
The team has been working on the same with the help of AI and RPA. In this strategy OMA seeks to achieve less human intervention in all business sectors band concentrate on developing the solution that help in daily human life and overcome any global pandemic in the future.