CNME Editor Mark Forker spoke to Feras Zeidan, Regional Director, MEA, Mitel, to find out how the global business communications leader has leveraged its portfolio of solutions to help enterprises maintain business continuity during the global COVID-19 health crisis.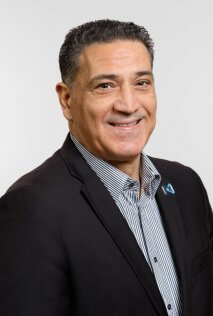 Zeidan has established himself as one of the most prominent thought leaders in the IT ecosystem in the Middle East during a stellar career, and in a fascinating interview goes into forensic detail as to how Mitel has managed to sustain its success as a leader in the unified communications space.
He stated that by the end of 2020, at least 50% of all the classical vendors, partners, customers and employees who still have a traditional and conservative mindset will no longer exist.
"The transition towards cloud and remote working has forced the market to accelerate the adaption and adoption of what we call on-demand applications. Those who resist this change, will die. In 2016, Mitel was split between the emerging world and the developed world. The developed world had access to the cloud and all these other next-gen technologies and that prompted us to acquire ShoreTel for $500m, and Swedish company Telepo for UCaaS and CCaaS. Communication-as-a-service is when you host your contact center, recordings and unified communications in a public cloud, or inside a telco and you start selling per-user on a monthly basis and give them a menu of what they can select," said Zeidan.
The MEA Regional Director said that the pay-as-you-go IT consumption model has really allowed Mitel to flourish over the last four years in the emerging markets – and said their decision to invest early into cloud technology enabled them to establish themselves as a market leader.
"The question a few years ago was where do you put your R&D money? Do you invest into cloud technology, or do you enhance your existing on-prem infrastructure? There was a war between on-prem and off-prem. Applications like Zoom and Microsoft Teams are what we call video first unified communications. We decided to combine collaboration and unified communications and bundled them into one package during COVID-19, which we labelled as business continuity plans," said Zeidan.
According to Zeidan their decision to repackage their communications has struck a chord with the market during this global pandemic that has disrupted so many businesses and forced them to scramble to keep the lights on and maintain business operations.
"What we did with Mitel in the Middle East and Africa region was repackage. We repackaged our on-prem solutions, and we introduced some cloud elements from the developed offerings from Mitel in the UK and Australia. We essentially created a hybrid business continuity solution. We're the only manufacturer to date in the entire MEA market to repackage the on-prem solution, by bringing public cloud collaboration offerings and public cloud unified communications offerings onto the one package," said Zeidan.
The Mitel executive also highlighted the role of data centers, and claimed the reason they have been so successful, in addition to the requirement for more capacity, bandwidth and applications, was the centralisation of IT.
"Juniper shut down nine of their data centers globally – and put all their applications on a public cloud like Google or AWS, but they kept one data center for redundancy. Today, that model is also applicable for voice, and Mitel is giving its customers the cloud element, but yet we're keeping the legality, security and control in their own data center and that is giving them flexibility and choice," said Zeidan.
Zeidan disclosed that during the COVID-19 crisis Mitel have enjoyed a 60% growth in their business adding that mobile healthcare has been a key industry vertical for the IT leader.
"We've been able to tap into the entire industry that is built around healthcare such as the distribution of medicine, acute patient care, family care and so on, but without a doubt healthcare has been our biggest growth vertical. In addition to this, we've started to see a lot of insurance and FinTech companies, who needed business continuity in a new model also starting to pick up. I had a call with a customer in Kenya, who wanted a hybrid model for 400 of his customers, but he wanted to pay monthly, be legally secured, and have his contact center secured. However, he wanted everything on the cloud, and this is exactly what our offering is," said Zeidan.
In terms of why there has been such a seismic shift towards a consumption-based model in the IT industry, the Mitel executive believes that flexibility is key, but it is also very important to note that people will never ever go back into the CAPEX model.
"What businesses want is to build business continuity plans that are built on flexibility, and the hybrid model equips them with the tools to do this, and gives them the legality, security, quality assurance and compliance on one side, and on the other side gives them that pay-as-you-go consumption based cloud solution. This combination is becoming a winning formula, but the biggest issue is to market it to the end-users and through the right partners," said Zeidan.
There has been a huge acceleration towards cloud, especially across the Middle East region since Microsoft established data centers in the UAE, Google entered Saudi Arabia and AWS in Bahrain. However, Zeidan noted that the biggest investment made by these cloud providers has not been in data centers.
"The minute these three global cloud providers came to the region they did not make investments in data centers, instead they created a PoP that had legal compliance for something that we call lawful interception, that essentially enabled governments to have access to this data. Outside of the government, almost everybody is using these three major cloud players for their data recovery, e-mail and everything else, and their presence and entry into the region became a big inflection point for both the private sector and commercial sector. In reality, they did not invest in a data center, they invested in something called the outpost. That is essentially an extension of a data center," said Zeidan.
Zeidan said that one another consequence of their presence in the region, particularly from a partner perspective is that it has also forced AWS, Google and Microsoft to invest in channel development, and that this is key for Mitel.
"The key for us as professionals in the industry is the middle-man as they are our heart and soul, and the channel and the partners are the most important element in this triangle between the end-user and manufacturer. Today, all cloud transactions in the Middle East has to go through a Reseller. We're one of the largest global partners with Google on AI and contact centers, and we also work with AWS and Microsoft and we see how much investment they are all making into training and education. The biggest value they've brought for us in the region is investment is undoubtedly in channel development and partnerships," said Zeidan.
When asked how Mitel had managed to sustain its success over such a long period of time, Zeidan pointed to his team and his ability to predict trends in technology as the main reasons for its success in the MEA region.
"I have built a fantastic team here, and I really care about the industry and the people in it. I think I'm a good leader and I lead by example, but technology is really my strongpoint. I can see ahead of the curve and project what is going to emerge in the next two years, as I'm really in tune with the entire IT ecosystem. We don't sell infrastructure. We sell consultancy and business values. The people are key, and the success of any vendor is built on three things, which are people, products and processes," concluded Zeidan.