CNME Editor Mark Forker secured an exclusive interview with industry veteran Philip Andrews, Vice President and General Manager of RedHat CEMEA, to explore more about their enterprise open source strategy, how their product portfolio has diversified over the years – and the need for businesses to have 'digital leaders' to drive key projects.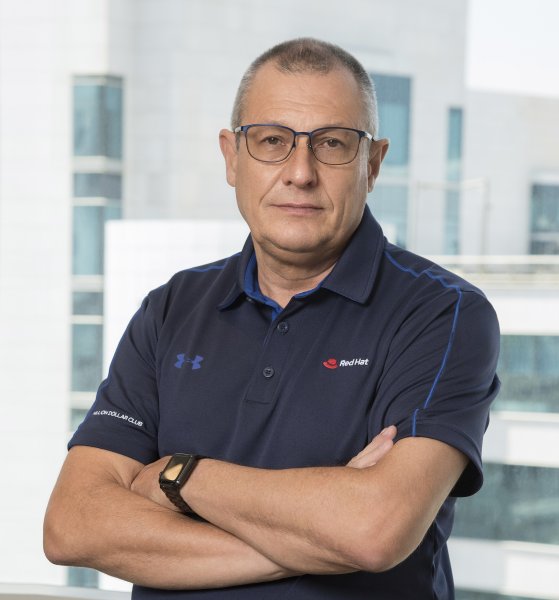 Since their inception in 1993, RedHat has established itself as a global leader when it comes to developing open source software products for the IT ecosystem.
In the current economy there is an increased demand for open-source products as businesses search for greater flexibility and scalability in the digital economy, but as Andrews points out many challenges remain.
"If you look at open source per se, it is an extremely innovative way to generate software. However, there is a big gap between creating innovative software and running an enterprise at five-line reliability day-to-day, in which you have got to ensure that you have security patches, and that your software is managed to a level that allows you to run a large enterprise infrastructure safely", said Andrews.
As Andrews jokingly pointed out, RedHat is renowned globally for being the 'Linux guys', but he outlined how the software company has evolved and expanded, and highlighted the role played by Kubernetes.
"We started out with Linux, and as we transitioned through that we ended up creating platforms for virtualisation, which led to Linux spawning the containerisation movement. Kubernetes was initially created by Google on open source, however, Kubernetes in itself is quite basic. We put open shift on top of Kubernetes in a bid to make it a finished product for development, deployment, production, and management. If you put open shift in any hardware platform, private cloud, or public cloud then it gives businesses a layer like an operating environment that allows them to move software backwards and forwards. Linux is now probably only about 50% of our business, and the rest of it is all the other technologies that we are involved in, and that gives you an illustration of how our product portfolio has evolved and diversified", said Andrews.
The RedHat brand is one of the most trusted and reliable in the IT industry globally, but Andrews declared that one of the primary factors in its sustained growth has been its bang for the buck.
"The reason we have continued to grow is because we represent great value for money. Businesses request for us to do that curating management support job, primarily because if you are a software business and you need to put your software on top on anything, everything that is different will cost you money to setup support on. If you are sitting on RedHat it is a known quantity, and there are 2 or 3 brands of open source software that have enough critical mass, but you as a software business that needs to support your own product, you do not want to be sitting on completely free unknown, because you have to fix that first, before you can find a bug in your own software", said Andrews.
Another key factor in RedHat's success, in addition to trust, is the fact that many businesses do not need to worry about continually retesting.
"There are a lot of components to our success, and undoubtedly one of those is trust, but another is the fact that you don't need to have to worry about retesting, which is particularly important when it comes to the banking industry for example, because as we know it is heavily regulated, and that legislation from the monetary authorities literally forces people to make sure they have got fully supported environments, whether that be hardware or software. When you have got a core banking platform that is fused with a connectivity platform, and operating environments such as container platforms, or operating systems, then you need to have some pedigree from top to bottom in relation to supportability and testing, and the consistency is critical", said Andrews.
There has been an exponential increase in digital transformation since the onset of the pandemic, but many have struggled with the demands of transformation, and we asked Andrews for his opinion on why many businesses have been unable to adapt when embarking upon digitalisation.
"If you think about what you need to do to digitize your business then you're going to have to expose your internal systems to your customers on a mobile platform, and somehow you have got to have the capability to build some machinery in the middle of all that, so you can create these innovative programs to access backend systems and programs to deliver banking and delivery services. However, whatever they create around that software will need to access external software, and in many cases will need to link to other suppliers and internal operating environments. For example, you have RedHat in the datacenter, and you have an integration and container platform that you can write new software on, and then you can create an entire innovation hub for connecting your old applications to new applications in the cloud which allows you to deploy your digital assets on different clouds all over the world, now that's digitalisation", said Andrews.
Andrews conceded that resistance to change was a major obstacle preventing many enterprises from achieving their digital goals across the Middle East – and stressed the importance of creating internal teams to drive the project.
"If you think about innovation then anyone who wants the change the way an enterprise is run is going to face resistance from those interested in maintaining the status quo, so innovation takes big cultural change, because typically the antibodies come out and try to kill it. Therefore, you've got to try and help train people with new techniques and build multi-cultural and multi-functional teams together to be able to firstly, build viable products, and secondly, be able to use push button architecture to be able to create integration and innovative new programs", said Andrews.
In addition to this, the visionary IT leader spoke of the critical importance of having 'digital leaders' to again drive these new projects.
"We encourage our customers to consider having digital leaders. For example, a lot of our banking clients separated their workforce into groups and provided them with access to systems – and assigned digital leaders to create and assemble these teams. Fundamentally, what enterprises need to do is help management to understand that doing something different is not an option now if you want to compete. You need to instruct your teams to build what I call digital assets that become products that are managed by people", said Andrews.
Andrews concluded a wonderful and insightful interview by emphasising that businesses undertaking their cloud journeys select a partner that has a proven track record of delivering the results that they want to achieve.
"I think that the journey to the cloud in many respects is a journey into the unknown. You need to work with a partner, or a vendor that you can trust, and that has been there with other companies and done this before. The first thing that we try to determine and establish with our customers is where is the end point that you want to get to? We want customers to have a vision of the end state, and with every project we will move them closer to that. We want to get them to a position where they have an integration strategy and API management, so you can start to add new services that allows you to reuse integrations. You want to make building blocks for whatever may come next, because we know in the current climate you have got to be agile and adaptable to change", said Andrews.