CNME Editor Mark Forker spoke to Tariq Shahabedden, CEO at Azdan, to learn how the IT leader is leveraging its technological expertise to help businesses optimise their efficiency, performance and costs during the ongoing global COVID-19 pandemic.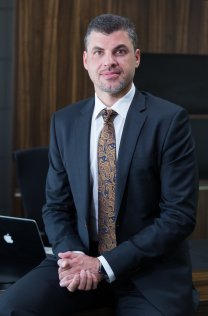 In an engaging, informative and in-depth interview, the dynamic CEO of Azdan also articulated how his innovative company has become the 'go-to' player for digital transformation by utilising its RPA, EPM and business management solutions across the Middle East region tailored to facilitate the growth of the 'on-demand' digital economy.
COVID-19 has impacted the way we work, when we work and where we work. However, it has also significantly altered consumer behaviors and spending habits. Can you tell us about the 'Azdan Distribution and Logistics Management System' that was developed in response to this trend, and outline to our readers how it is helping organisations increase productivity and efficiency? 
The shift towards e-commerce was happening even before COVID-19, but the pandemic accelerated a spike in consumer's behavior towards e-commerce. Dubai, for instance, recorded an 83% year-on-year surge in the number of e-commerce business licenses issued in the first half of 2020 as consumer demand for online shopping grew.
Azdan was quick to recognise a gap in the retail sector particularly where data was not available online at the supplier end and as an industry it has a highly mobile workforce. There appeared to be a growing mismatch in the industry size and demand equation combined with an increased difficulty of monitoring provision and quality of third-party services.
Azdan responded by developing a cloud based 'Distribution and Logistics Management System' which helps businesses manage delivery fleets for optimal performance, efficiency and cost.
We understand every business is different in its make-up of fleets and may require different capabilities from its fleet management software. Some businesses may need to manage a single large internal fleet, while other businesses may manage multiple third-party contractors, or crowd sourced fleets as well.
Our industry users are particularly able to benefit from real time visibility as they can now scale their delivery and cater to increasing demands. They're able to take advantage of the extra functionality (aggregator), connectivity and integration for improved logistics in a cost-efficient manner. Through the data prediction dashboard, the decision makers can define their KPI's for efficiency, power up their distribution process and reduce the risk associated with costing.
Can you also tell us about the role Azdan played in terms of how it helped its customers at the outset of the global COVID-19 pandemic as enterprises were forced to embrace remote working? Many businesses weren't equipped with the right tools or infrastructure to make this transition to operate seamless and secure. How did Azdan leverage its technologies to help its customers? 
Cloud technology facilitated remote working in unprecedented ways – it became a lifeline for governments needing to provide vital services from emergency hotlines to online education – paving the way for people to access critical resources. As the reliance on technology services deepened it magnified the importance of cloud transition as a vital asset to business operations.
Azdan is a recognised market leader in providing scalable, secure, reliable cloud-based technology; services and intelligence supporting enhanced security, optimal performance and compelling growth opportunities for many businesses and industries.
Azdan facilitated its small and medium sized businesses to rethink their IT infrastructure and suggested alternative business models backed by fast implementation of cloud solutions. We helped our clients with on premises solution to move to cloud which hugely impacted coping with remote working environment without compromising their operational efficiency and customer engagement.
Azdan has established itself as the 'go-to' partner for digital transformation, but can you elaborate in detail on the unique capabilities of each of the 3 main solutions that you provide for your clients, which are Robotic Process Automation, Enterprise Performance Management, and Business Management Solution?
Robotic Process Automation: 
The global pandemic has shifted all industries to remote-first, with business continuity becoming the most important priority. Many organisations are highlighting major gaps in existing processes, creating a greater need to optimise resources.
Many organisations are turning to software robots for help. Robotic Process Automation streamlines internal processes, reduces costs, provides better customer experience, lowers operational risks and provides better insight into trends and opportunities for businesses.
Robotic Process Automation in the back office and virtual workforce at employee desks are helping companies keep up with growing service demands, provide support to working colleagues from home and ensure business continuity during these challenging times.
Enterprise Performance Management:
Enterprise Performance Management is the process of monitoring performance across the enterprise with the goal of improving business performance. Our EPM solution integrates and analyses data from many sources, including, but not limited to, finance, sales, supply chain and back-office applications, data warehouses and external data sources.
Azdan's Planning and Budgeting Solution reduces the budget cycle time and allows a company to make effective and efficient business decisions. The solution provides an organisation with an ability to quickly model complex business scenarios, such as, 'slice & dice data', and perform 'what if' analyses.
Business Management:
Successful modern organisations must be data-driven, innovative and able to scale and respond to market dynamics rapidly. Enterprise Resource Planning (ERP) at Azdan helps our customers become more self-aware by linking information about production, finance, distribution, and human resources together.
Because it connects different technologies used by each individual part of a business, an ERP application can eliminate costly duplicate and incompatible technology.
Can you tell our readers about your 'self-service application' and what impact the deployment of your solution had in relation to keeping employees connected when working remotely? 
The concept of 'self-service' is not really new. It is very common to see self-checkout booths at supermarkets – where rather than waiting to be served we choose to transact ourselves. We can also see self-ordering becoming a norm these days in coffee shops and in restaurants. It is no different in the corporate environment.
Many executives need to check and approve a transaction while in a remote location. Sometimes employees want to know about their payout check while on the go. Other times employees wish to read about a company announcement. Remote working has led to using mobile devices to communicate with employer, manager, and cross-functional team.
Azdan offers end-to-end self-service application that condenses multiple HR functions into a single place. It is all-inclusive, cloud-based, unites all aspects of HR, payroll process and talent management.
Azdan application lets employees create and modify their personal profiles, monitor their individual benefits and payroll information, and contact specific departments if they have questions.
This solution helps increase HR and payroll related transparency and can lead to better overall communication between employees and the departments designed to support them, facilitating a more integrated, knowledgeable, and engaged organisation.
Azdan application helped companies to transform the employee experience, streamline recruitment and onboarding, control human resource costs, anticipate workforce needs and measure employee performance.
Azdan designs are device and technology independent, so employees stay connected on any device. We empower the employees working remotely to access information and records at any time and at any place.
Azdan is one of the leading management consulting firms in the Middle East. However, in your opinion, what is it about Azdan that ultimately differentiates the company from its other market rivals?
Developing a technology solution is not the same as addressing a business need with technology – these two things are quite different. The key thing is that many entities develop technology solutions, but that doesn't mean that all solutions solve a real business need.
We assess the business situations by reviewing in-depth business processes before making any recommendations. We tailor the solution that fits best with our client's business requirements.
We provide alternative paths for bringing functionality into a business clearly stating the impact to the timeline and cost for different variations in scope, phasing and architecture.
Our professional services offer viable strategies to build new capabilities ensuring system evolves with business growth and optimises our client's business processes for value proposition.
Before starting the deployment process, we do change management, proof of concept, and if needed, recommend introducing policies.
What are your primary goals and objectives for the remainder of 2020?
In the current environment, cloud computing is firmly established as the new normal for enterprise IT and is perhaps the fastest growing segments of IT spend.
At Azdan, we will continue to support business communities to be operationally safe and secure by using the right technology solutions. We will diligently work to increase our overall market share while building in-house employee capabilities for continuous innovation.