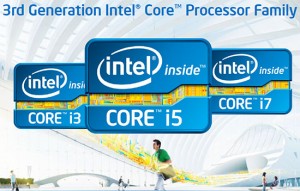 Intel today launched in the UAE its 3rd generation Core processor family – the world's first processors developed on 22nm manufacturing.
The processors, which are made with the world's most advanced 22nm 3-Dtri-gate transistors, make Ultrabook devices more responsive and secure to better protect personal information. The new chips also offer increased media and graphics performance and longer battery life.
Equipped with these new processors, the next wave of Ultrabook systems is equipped with enhanced security features, including Intel Anti-Theft technology that lets people automatically disable the system if it is lost or stolen.
Furthermore, all 3rd generation Intel Core processor-based Ultrabook devices have Intel Identity Protection technology built in to help keep users' identities safe.
The addition of Thunderbolt technology provides a high-speed connection that allows incredibly fast transfers. For example, a full-length HD movie can be transferred to an Ultrabook in less than 30 seconds.
Intel engineers have also developed up to 22 percent faster performance on multithreaded applications compared to 2nd generation Intel Core processors, and the new Ultrabooks also have up to twice the video processing and 3D graphics performance of the prior generation.
The result is an up to 30 times improvement in video processing and up to 19 times improvement in 3D graphics over the Intel Core 2 Duo-based laptop.
"The 3rd generation Intel Core processor represents a time of revolutionary change in personal computing. Users in the UAE will enjoy superior PC experience that offers responsive, stylish, protected and mobile devices. With these new 3rd generation Intel Core-based Ultrabook devices, mobile computing as we know it today will suddenly seem old fashioned," said Nassir Nauthoa, GCC general manager at Intel.
"We've forecasted over five times more Ultrabooks to be introduced in the next 12 months as compared with the previous. This also includes new business, touch, and convertible designs.  At the same time, we've continuously improved on security and responsiveness," he added.
Conceived by Intel just over a year ago, the Ultrabook category was quickly embraced by the industry and more than 20 systems have been introduced since October 2011. There are now over 110 3rd generation Intel Core processor-based Ultrabook devices under development.