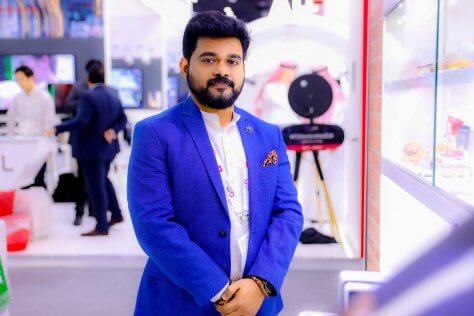 Arun Nair is not just the Group Head – Marketing and Corporate Communication at Centena Group but a marketing force to recon with and stands out even among the spectacular line up of marketing thought leaders in Gitex.
For the last 5 years, Arun has been spearheading the corporate direction of the Centena Group which has concerns in marine electronics, industrial automation, life and analytical sciences, identification and security and educational training systems.
With the support of his dynamic team he has created a wow experience for the Screencheck , a  Centena Group company at Gitex, which has been well received by visitors, delegates, stakeholders and business associates.
Experts say that a great marketing mind has 4 common traits: Discipline, Curiosity, Appetite for Growth and Confidence. Over the course of two decades, Arun has exhibited all 4 traits during his tenure in top notch advertising agencies, software companies and now, at the diversified Centena Group.
Of all the 4 traits, it is Discipline that is the hardest for marketing leaders to master. However, Arun has spent considerable time to understand the nuances of Centena Group's target audience, the broad spectrum of its services and the innovative possibilities of the brand.
It's those who are disciplined who get the most results in the shortest period of time and under Arun's leadership the marketing of the Group has taken a disciplined approach to reach the broadest spectrum of people using strategic digital marketing initiatives.
Curious and open to thinking differently
When it comes to creating a culture of innovation it is the ability to remain curious that determines the possibilities of the company. Without curiosity, it's more often the case that people stay stuck in the work behavior habits that they've had their entire lives. Arun has created an environment of ongoing learning in the Centena Group which has reflected in the innovative approach of the Group.
Appetite for growth
It has been seen that energy and perseverance are required to accomplish anything significant, which is why those who have a lot of it are destined for growth. Arun has not only been energized by his own growth but has the drive to create the culture of growth which has spread across the Group.
Be it marketing or corporate communication, the appetite for growth continues to keep Centena Group steadfast in its path to achieving infinite growth.
Confident about the values
Having a long-term career vision is critical for the growth of employees and a brand as a whole. The Centena Group is lucky to have visionaries like Sanjay Raghunath, the Chairman & Managing Director of Centena Group, who is leading the Group to greater glories. "The key for us was to build beyond business and create a transformational impact on people's lives. Our efforts have been focused on giving back to society," says Raghunath.