For this year's annual World Economic Forum (January 23–26, 2018), the city of Davos and ABB have teamed up in a long-term partnership to provide e-infrastructure for public and private transportation.
Davos residents and WEF guests can experience the TOSA bus, developed by ABB in Switzerland. It is already in use in Geneva and will soon be implemented in the French city of Nantes. It can recharge its battery in just 20 seconds as passengers board and disembark. In Davos, it operates on the busy Line 1, running from the tourist centre to the hospital. This is the first time TOSA technology is being used in an Alpine region. The idea is to run the system under extreme winter weather conditions; ABB and its project partners expect to gain valuable insights from this pilot project.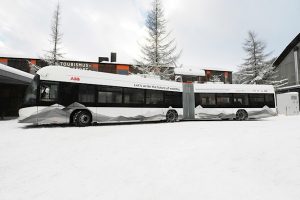 In addition, electric cars transporting attendees around Davos will be able to recharge their batteries at eight newly installed ABB fast-charging stations.
"The shift to electric vehicles is no longer a question of if, but rather of when and how quickly," said ABB CEO Ulrich Spiesshofer. "EVs are becoming increasingly attractive to motorists. As well as being ecologically responsible, they're becoming less expensive to buy and maintain."
For e-cars, ABB claims it is already the global leader in fast charging, with more than 6,000 stations installed in more than 50 countries. At Davos, world leaders will get to see the eight recently installed ABB Terra 53 charging stations in action. The ABB Terra 53 is the best-selling 50 kW DC charging station in Europe and North America, supporting the CCS, CHAdeMO and simultaneous 43 kW AC charging standards.