A startup accelerator initiative between Abu Dhabi's renewable energy company, Masdar, and the international oil and gas company, BP, was relaunched at Abu Dhabi Sustainability Week, ADSW 2018, and is now accepting applications from local and international entrepreneurs.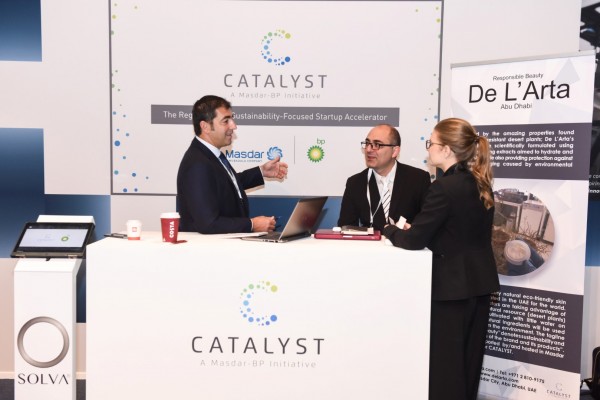 The initiative, known as 'The Catalyst,' is based at Masdar City free zone in Abu Dhabi, and is the region's first sustainability-focused startup accelerator. It prioritises businesses at the commercialisation stage, offering expenditures, training, mentoring and office space. It is also collaborating with the Masdar Institute, part of the Khalifa University of Science and Technology, and the core tenant of Masdar City.
According to WAM, successful applicants will be those developing innovative products and solutions that are potentially patentable, with priority given to UAE-based startups.
During the initiative's unveiling at ADSW last week, it was revealed that The Catalyst will run in two cycles per year – split into two phases. The first three-month phase is devoted to scouting up to 50 applicants. The second phase of up to four months involves choosing startups from a 10-strong shortlist, deploying the capital and hands-on training and support.
The Masdar-BP joint venture hopes to select up to six startups per cycle per year. Licensing will be managed through the Masdar City free zone, recently voted "best free zone for startup support" and "best free zone for renewable energy" by the Financial Times' fDi magazine.
"The Catalyst completes our comprehensive portfolio of services catering to businesses of all sizes, from large corporations to startups and individual entrepreneurs," said Mohamed Al Fardan, Director of Masdar Free Zone. "With homegrown clean-tech businesses now emerging in the UAE, as well as other accelerator initiatives such as CLIX at ADSW and Krypto Labs here at Masdar City, now is the time to relaunch the Catalyst to further incentivise the business ecosystem in sustainability taking root in the Middle East and international markets."
According to The Catalyst's CEO Cinar Kurra, the initiative's main vision is to help build a robust startup ecosystem focused on sustainability within the emirate.
"The track record of Masdar as a global renewable energy leader, the experience of BP as one of the world's leading integrated energy companies, as well as the access to clean-tech partnerships provided by the Masdar Institute and the support of the Masdar free zone are distinct advantages of the Catalyst's business model," Kurra added.