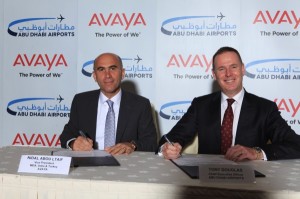 Abu Dhabi Airports and Avaya have announced the signing of a 10-year partnership to enhance the airports company's customer-facing and internal workforce capabilities across its operations.
The agreement will see Abu Dhabi Airports (ADA) deploy Avaya solutions for IP telephony, video collaboration, and contact centre technology across its airports and organisations.
It is hoped the changes will increase performance, reduce costs and accelerate the transformation of customer service experience.
Avaya will also be introducing its latest solutions in video collaboration, which will enhance and improve internal and external communications for the aviation company.
The new framework agreement will offer ADA the opportunity to work with a select number of Avaya's partners located throughout the UAE to provide top-line services and solutions.
Tony Douglas, CEO of ADA said, "Adding Avaya to our network of partners is another key element to ensuring we have the right tools and services that will support ADA's vision to become the world's leading airports group.
"Timely, reliable and cost-effective communications are integral to any successful airport, and ADA's growth strategy dictates that we have a superlative communications strategy in place to meet the needs of travelers, our airlines, and our staff."
The agreement covers an initial requirement of 25,000 telephony extensions, which will increase as ADA grows, as well as consolidating the company's communications infrastructure on Avaya Aura.
It also encompasses a broad suite of Avaya technology solutions and expertise, enabling Avaya to implement, source, manage and enhance technology operations throughout ADA's networks.
By using Avaya for this complete end-to-end implementation, the airports company hopes to move to a standardised communications model, creating a centralised system to manage all of its operations.
To enhance customer relationships while improving staff quality, Avaya will also provide ADA with a contact centres solution, aimed at boosting the performance of agents interacting with travellers.
This customer focus will provide a deployment platform for new airport services and could also benefit the company's airline partners.
Nidal Abou-Ltaif, Vice President of Avaya's Middle East, Africa, Turkey and India branches said, "Abu Dhabi Airports represents one of the world's fastest-growing and most innovative airport groups; their management team has created a forward-thinking strategy to provide superior service and solutions to their staff and customers alike, while anticipating future opportunities.
"With a custom-built solution for each client, Avaya can help innovative companies like Abu Dhabi Airports get the most out of their communications infrastructure as a critical element for growth."