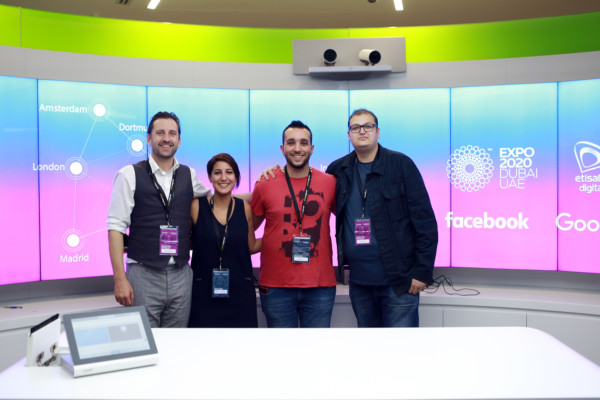 Accenture has recently concluded its Digital Connected Hackathon, which was held internationally in collaboration with Expo 2020 Dubai, and locally in partnership with Etisalat Digital.
The event took place in Dubai and seven other cities in Europe and the Middle East simultaneously: Rome, London, Madrid, Amsterdam, Dortmund, Prague, Istanbul and Dubai.
As international collaborators on the event, Accenture Digital, Expo2020 Dubai, along with Etisalat Digital in the UAE, are leveraging their expertise and platforms to help youth in realising their technology projects through the "Connect. Collaborate. Create" competition aimed to encourage collaboration and inspire the creation of social innovation projects for a more inclusive future. Participants were asked to create innovative ideas focusing on the three themes at the centre of the World Expo to be held in Dubai in 2020-21: Opportunity, Mobility and Sustainability, inspired by Expo 2020 Dubai's core theme 'Connecting Minds, Creating the Future'.
The competition brought together 292 participants organised in 62 teams, with expertise in development, design and marketing. The winning team in Dubai, who fought off fierce competition from seven other teams, was Team "Squirrels", which consists of energy expert Charles Blaschke, design genius Sarah Hamawi, programmer Ali Obeid and branding and marketing expert Vivek Mehta, was the winning team from Dubai.
The team developed 'TAQAS', a solution designed to help individuals reduce their energy consumption and utility bills in their homes. Using gamification and sharing, it compares members of a specific community to its peers, global communities and competitions to show how they perform and make an impact on the largest challenge of our time, climate change. Using this tool, individuals will have the power to not only save money, but do their part in creating a truly sustainable, connected digital future. The team built a completely functional android app including code comments and open source libraries.
The overall, international winning team, awarded with a EUR 1000 voucher and a trip to Dubai to present its project to the organisers of Expo 2020 Dubai, was Portakal. Their project, "Planty," is an integrated, mobile kit for micro farming that allows people living in urban areas with limited access to space, soil and water to grow their own fruit and vegetables, and at the same time to reconnect with nature. Planty brought together a range of simple equipment and digital tools to educate and guide users.
Speaking on the success of the event, Tony Karam, Managing Director of Accenture Digital in the Middle East and North Africa, said, "The whole world is witness to the UAE's strong track record in innovation. It is through ground-breaking approaches to ordinary matters, that the nation was able to transform itself to what we see and live in today. Accenture is keen on playing a key role in motivating the youth to share their creativity with a wider audience. Through events, such as the hackathon, we aim to be the catalyst behind the conceptualization of great ideas, which will ultimately evolve to further excel the UAE in its drive towards excellence. We appreciate the support received from our partners, and we are delighted to see the big players in the IT sector come together to encourage the youth."
Marjan Faraidooni, VP Legacy, Expo 2020 Dubai, said, "The Accenture Digital Connected Hackathon brings Expo 2002 Dubai's theme, 'Connecting Minds, Creating the Future,' to life. It has been so inspiring to see young people from eight cities across Europe and Asia come together to create solutions to challenges in the areas of Opportunity, Mobility, and Sustainability. Expo 2020 Dubai believes in the immense power and potential of technology to connect people, create opportunities and collaborations that lead to a more inclusive future, and we look forward to welcoming the winners of the Expo 2020 Dubai special prize to present their ideas to us."
"Etisalat Digital participation in today's event aims at fostering innovative ideas by supporting budding entrepreneurs and allowing them to experiment with the latest technologies. It was an overwhelming experience to see many talented youth showcasing innovating projects to build digital experiences revolving around Expo 2020 Dubai,"said  Francisco Salcedo, SVP, Etisalat Digital.
The Accenture Digital Connected hackathon was intended not only as a way to connect people, but also a way to recruit talented people: individual participants whose teamwork, problem-solving and goal orientation impressed the judges, and whose profiles were in line with Accenture recruitment plans in the participating countries, may be offered internships or employment in Accenture Digital, or elsewhere in the company.