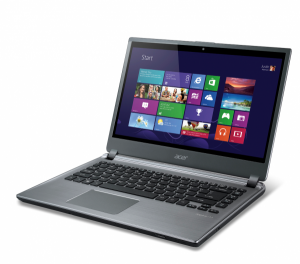 Every now and then a piece of technology comes along that you just can't put down – this was one of those pieces. With a large, beautiful, slim keyboard supporting a 15.6 inch screen and the solid Windows 7 systems available at the touch of a button, the Acer Aspire M Touch is a fantastic package for anyone, business or professional.
The outstanding battery life and Nvidia Kepler based graphic card makes it an ideal platform for gamers, whilst sitting at 2cm high and weighing only 2.1kg, complete with a DVD writer and three USB ports, it's perfect for business.
The sleek brushed metal finish (albeit mixed with plastic) makes the Aspire a lovely looking thing, as well as sturdy and solid when in use or in transit. The keyboard is nicely spaced and very user friendly, as is the rather large track pad situated slightly to the left of the machine. The point here is; the M Touch is big without being big.
A key thing to note about the Acer is that it's a consistently cool and quite performance piece, even when gaming. Add to this a nine second boot up time from shut down and a two second boot up time from sleeping and you've got a very complete and solid machine. This can all be put down to the impressive third generation dual-core processor Intel Core i5, complete with 6GB of memory and a 120GB SSD.
Once you've finished doing your homework or destroying enemies on COD, you can start to really enjoy the Acer Aspire. Now running on the Windows 8 operating system, arguably built for the tablet market, the M Touch transforms into a futuristic multi-touch device which feels like something James Bond might be presented with at Q branch.
As previously mentioned, it boasts a 15.6 inch screen which makes the Windows 8 tiled homepage look fantastic, and the apps breathtaking. It really is where the fun starts. I spent hours sliding apps around, painting my face and researching worldly destinations via the new Bing app (which is superb).
I have used Windows 8 on countless non-touch screen devices and I'm one of those people who isn't overly keen on it. I find it to be a rather difficult tool to manage, not to mention my chosen screen tends to whizz off at any given moment leaving me typing a web address into a Skype conversation. So, back to the point, having all the power of a large, powerful and swift laptop combined with a classy, 15.6 inch touch version of Windows 8 makes this Acer model an absolute winner. I'm still not convinced that the Windows 8 OS is really very business friendly, however, with the Acer Aspire M Touch you can take full advantage of all the media communications apps such as Skype and Lync, both of which are smart and simple to use.
With my work completed, and therefore Windows 7 and the keyboard rendered completely redundant, I sat down and watched all my favourite YouTube clips in stunning HD as well as playing several apps in the background, throw in a couple of Skype conversations to friends across the water and I managed to drain just under eight hours of play time, more than you get from many smartphones.
In conclusion – I loved the Acer Aspire M Touch. It's a brilliantly solid laptop with the feel and look of a high end device which draws the best out of the Windows 8 OS. For all you get, it's well priced and I would have happily held on to it for a much longer time.
This review was done by Joe Lipscombe, Sub-Editor, CPI Technology.