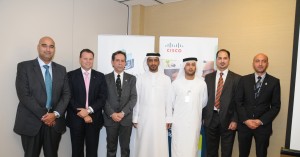 Cisco today announced that the Abu Dhabi Education Council (ADEC) has chosen a Cisco Borderless Networks solution to transform productivity and enrich the learning environment with advanced technology across all ADEC schools by the end of 2011.
The decision is a key milestone in the development of the education council's technology infrastructure, whereby nearly 270 schools will now be connected across the Emirate of Abu Dhabi. Etisalat and Cisco Advanced Services were selected as the lead system integrators, Cisco said.
Designed to connect all ADEC schools in Abu Dhabi, Al Ain, and Al Gharbia, the Cisco architecture will provide highly secure and reliable access to critical information that will enable students to become world-class learners able to fully participate in a sustainable, knowledge-based society.
Mohammed Younes, ICT division manager, ADEC said, "This implementation in collaboration with Cisco is a key milestone for ADEC to deliver on our vision to raise education standards in Abu Dhabi in order to help students become world-class learners able to fully participate in a sustainable, knowledge-based society. Technological literacy is an important part of modern education to ensure that students are comfortable using and adapting technology throughout their lives. Education is at the forefront of Abu Dhabi's Vision 2030 and has been recognised as a key pillar as Abu Dhabi strives to become a knowledge-based economy."
According to Cisco, the company and ADEC took an architectural approach to transforming the school system's network and data centre The approach began with thoroughly understanding what ADEC wanted to achieve and determining the IT strategy that would be needed to implement its vision, the company said.
Cisco was mandated by ADEC to develop a complete Borderless Networks infrastructure across ADEC schools.  Cisco's Borderless Networks solution will allow all ADEC students and staff to connect with each other, share folders, and devices regardless of their location.
The Cisco Borderless Network Architecture provides ADEC with investment protection, ADEC said.  The Cisco network platform is designed to be easily expanded to accommodate advanced applications that ADEC might add in the future.  High scalability will enable new applications and capabilities to be added over the next three to five years with the minimal adjustments.
According to Cisco, ADEC's data centre now features the Cisco Nexus 7000, Cisco Unified Computing System, and Cisco IronPort security.  The network infrastructure in each school includes a WAN router, core and access switches, wireless LAN, and Internet connectivity.  Comprehensive connectivity enables staff at ADEC's data centre to centrally manage information systems for all schools, representatives said. Also, the solutions implemented will develop teacher proficiency and enhance productivity.
ADEC announced that the new infrastructure will support 150,000 students, and 15,000 teachers, and administrators across 270 schools.
"Cisco's vision is to play a major role in connecting the nation and helping to transform education not only in Abu Dhabi, but also throughout the UAE by making our solutions relevant to the needs of21st-century learners, educators and organisations. As a leading provider of IP networking and collaboration for schools in the UAE, Cisco now offers technology solutions that will benefit both educational institutions and its administration. More than any other company, we know how to create a solid 'Connected Schools' foundation that can support the processes and systems that are required to move to the next level," concluded Wayne Hull, director and general manager, Cisco, UAE