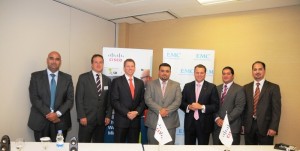 Cisco, EMC, VMware  recently announced that the Executive Affairs Authority (EAA) in Abu Dhabi, has chosen the VCE Vblock Infrastructure Platform from VCE to increase business agility through greater IT infrastructure flexibility, and lower IT, energy and real estate costs through pervasive  data centre virtualisation and a transition to private cloud infrastructures.
David Scott, executive director, EAA said, "The EAA was impressed by the capability of VCE and Cisco's Unified Computing System to unite compute, network and virtualisation resources into a single cohesive system. Among other advantages, Cisco's decision to team with EMC and VMware leveraged the capability of experienced Eco-system partners to reduce the energy requirements of our systems."
VCE is the Virtual Computing Environment Company formed by Cisco and EMC with investments from VMware and Intel. Through the Vblock platform, VCE delivers the industry's first completely integrated IT offering with end-to-end vendor accountability.
The contract, represents the first Vblock Infrastructure deployment in the UAE, involving the strategic collaboration that combines best-of-breed virtualisation, networking, compute and storage technologies.
The EAA, a specialised government agency mandated to provide strategic policy advice to the Chairman of the Abu Dhabi Executive Council,  will benefit from the Vblock's single support for all the three companies for fast remediation of any technical issues or support requirement, the companies said. Furthermore, the Vblock Management tools will help the EAA to dynamically provision compute and storage resources based on their changing business needs, sources reported.
"The EAA sees virtualization and cloud computing as key enablers to move forward in building our private virtualised cloud. The selected Vblock technology supports EAA's requirements for a data center whilst offering the flexibility to scale to meet aggressive growth requirements and to rapidly roll out new services," said Baraa Khamis, IT manager, EAA.
Wayne Hull, director and general manager, Cisco, UAE concluded, "The Virtual Computing Environment coalition offers organisations of all sizes an accelerated approach to data centre transformation with dramatic efficiencies that promise significant reductions in both capital and operating expenses. As a result, organisations will no longer have to choose between best-of-breed technologies and end-to-end vendor accountability. The Cisco team demonstrated the ability to provide the EAA Data Centre 3.0 vision combined with the networking solutions to equip them with the right technology for date center virtualisation and cloud computing services."
Said Akar, district manager, EMC, South Gulf added, "One of the primary motivations for adopting a converged IT infrastructure such as Vblock is  to achieve cloud readiness and to reduce the overall complexity that is associated with enabling a fully virtualised infrastructure. This will enable EAA to capitalise on their virtualised infrastructure's inherent potential to serve as an agile, demand-driven platform that can deliver dynamic IT services with unprecedented levels of control, security, compliance, reliability, and cost efficiency."