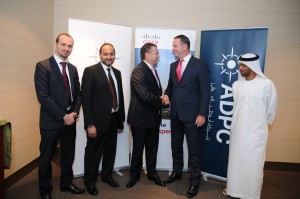 Cisco Systems announced today that the Abu Dhabi Ports Company (ADPC) chose Cisco Borderless Network and Collaboration solutions for phase one of its Port special Systems project.
According to ADPC, the deployment will enable ADPC to build a secure and reliable platform to deliver services across Khalifa Port and eventually the industrial zone.
At a ceremony, held today, at GITEX Technology Week 2011, Cisco and ADPC signed a Memorandum of Understanding (MOU) to strengthen the relationship and explore potential collaborative opportunities that will enable the smart operations of the port while facilitating trade, logistics and development eventually contributing to the overall economic expansion in the region.
Tony Douglas, CEO, ADPC said, "This agreement represents a major step forward that will enable ADPC to use the network as a platform to build the foundation of a modern port infrastructure to help achieve Abu Dhabi's 2030 vision for establishing a sustainable and diversified economy."
According to him, ADPC was in need of a solution that delivered state of the art technologies to support complex port related applications and system while catering for unprecedented growth and massive network traffic. In addition to which an Ethernet solution was required to provide data connectivity throughout the pot allowing multiple local area networks to communicate across devices both on and off shore.
Cisco pointed out that the WLAN infrastructure will support the various port systems and stakeholders that require remote access to the data network. "Since the WLAN is an extension of the data network, any system that is accessible over LAN is accessible over WLAN, given the correct security permissions," representatives said.