Next Orbit Ventures (NOVF) ESDM, the newly launched Abu Dhabi-based fund established under the Abu Dhabi Global Markets (ADGM) jurisdiction, has announced the launch of $2 billion fund for building semiconductors and electronics fab ecosystem in India.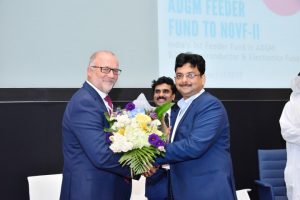 For the first time, an India-based fund going to be raised from GCC-based investors will be regulated by an external regulator – the ADGM, in an effort to raise the level of confidence among local and regional investors. While $1.5 billion will be raised from this region as feeder fund by NOVF ESDM, the remaining $500 million has already been secured by Next Orbit Ventures Fund-II (NOVF-II) from a consortium of investors involving both the Indian government and UHNI's.
IBMC Finance Professionals Group, a UAE-based financial services firm, is the placement manager for NOVF ESDM Fund.
During the past year, NOVF has signed MoUs with leading technology providers UMC (Taiwan), AMD (US), TowerJazz (US) and Centrotherm PV (Germany) as technology licensees for its fab projects. "In August this year (2017) we submitted our project proposal for the planned fab projects to the Indian government and per the Minister of State for IT & Electronics, we are in advanced discussions to receive an 'In-principle approval' for the same," says Ajay Jalan, Founder and Managing Partner, NOVF II.
 Meanwhile, discussions are also on with the Indian states of Andhra Pradesh and Gujarat to secure the land for the project.
 "Unlike a standalone fab investment, NOVF-II's focus is to develop end-to-end value chain in a 2,000-acre cluster, creating a thriving ecosystem of supporting investments," says Jalan. 
 The project aims at building the required infrastructure to cater to India's fast-growing market for electronic goods and components. India imported nearly $45 billion worth of electronic goods and components in 2016, according to a study by Ernst & Young and Indian Electronics & Semiconductor Association.
 By 2022, India's demand for electronics is estimated to touch $400 billion on the back of rapid penetration of electronic devices and internet connectivity.
 The current global demand for semiconductors, Jalan says, is roughly about $ 400 billion. "China is now building its semiconductors capacity after producing 80% of world electronics. In contrast India is not even able to produce 15 per cent of its own requirement. Domestic high-value addition manufacturing of electronics and semiconductors in India is virtually non-existent," says Jalan, emphasising the rationale behind the government of India's urgency in building the crucial ecosystem.
For the past decade, the Government of India has been trying its best to attract investments and promote the semiconductor sector to reduce the risk of trade imbalance and cybersecurity.
 The Indian Government introduced its first policy towards semiconductors in 2006 and Jalan was involved with the drafting of the policy.
 As a consulting CFO for a semiconductor start-up, Jalan had even raised an investment of $1 billion and started constructing the fab. However, this effort lost steam due to the Lehmann Crisis in 2008.
 "A semiconductor fab is an extremely complex project and is dependent on three critical factors – capital, technology, and government support. NOVF has secured all three critical factors and is fast moving towards execution," says Sanjiv Taneja, Chairman – Advisory Board at NOVF II. 
 "Electronics and semiconductor companies and start-ups have created immense value over the past few years. India is the next big market, with an emerging untapped talent," he adds.
Commenting on the opportunities for GCC investors, Sajith Kumar, CEO and Managing Director of IBMC and a member of the advisory board at NOVF-II, says the initiative is the beginning of a new era of FDI into India. "This is the first-of-its-kind ADGM feeder fund to India aimed at creating an additional layer of trust to the local and regional investors. The feeder fund is registered under the ADGM jurisdiction to facilitate investments from GCC investors. It enables total transparency and creates an element of confidence among investors," he says.