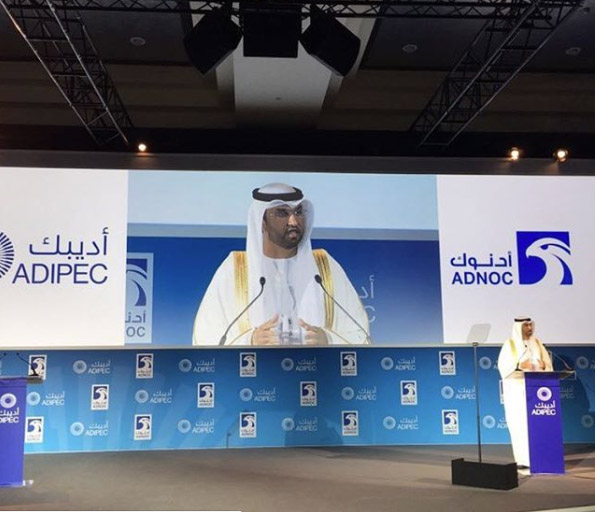 ADNOC CEO Dr Sultan Al Jaber has said the oil giant will aim to cut oil drilling time by "30 percent" using digital technology and that Blockchain and artificial intelligence will play a crucial role in the company's future.
Al Jaber said there was an "urgent need" not to ignore the shifting dynamics of the global energy industry in a keynote speech to open the Abu Dhabi International Petroleum Exhibition and Conference (ADIPEC).
The firm also this week established an AI platform and digital command centre, while Al Jaber said the firm would set up a new oil trading unit.
"At ADNOC, we are embracing the future to create a new type of national oil Company, an NOC that meets the needs of today, while adapting to secure tomorrow's success," Al Jaber said.
"In upstream, while we stay on track to expand production capacity to 3.5 million barrels per day. We are applying innovative technology to improve performance and cut drilling time by thirty percent. Our enhanced efficiency is reinforcing our position among the world's lowest-cost producers and attracting a diverse class of international partners.
"Today, we are living at a time where artificial intelligence is moving from science fiction to every-day reality at incredible speed, from harnessing the power of big data to the potential use of Blockchain trading platforms. Technology is a key enabler of our transformation and our sustained success.
"We must act nimbly, think creatively, and challenge our traditional business models."
Al Jaber went on to add that ADNOC is exploring the potential IPO of minority stakes in some of its service companies, announcing that a minority stake in ADNOC Distribution was to be floated.
At a holding company level, he added, ADNOC would "always" remain wholly owned by the Abu Dhabi Government.
Al Jaber added that ADNOC plans to grow crude refining capacity by 60 percent and more than triple petrochemical production in its downstream operations, and that the expansion would make Ruwais the "single largest integrated refining and chemicals site in the world."