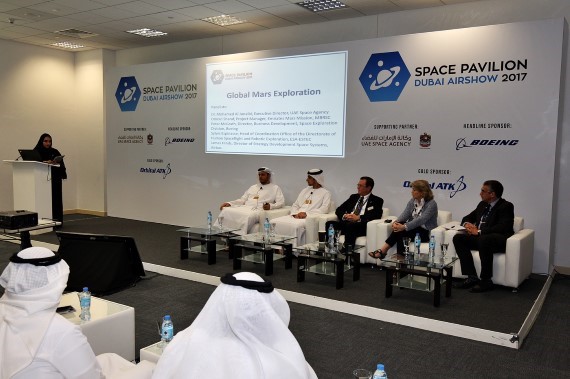 The UAE Government has highlighted its ambitious Mars landing and knowledge-building plans at the ongoing Dubai Airshow 2017.
With the space industry is said to be worth $300 billion, growing at eight percent annually and the country's investments in the space technology exceeds $5.4 billion (AED20 billion) the UAE Space Agency along with Mohammed Bin Rashid Space Centre (MBRSC), Masdar Institute of Science and Technology, Yahsat, Boeing, GCAA, FAA and ICAO showcased the nations' initiatives for the future of flight beyond Earth's atmosphere as part of its presence at the show's first Space Pavilion.
In his keynote address at the show, His Excellency Dr Ahmad Belhoul, Minister of State for Higher Education and Advanced Skills, and Chairman, UAE Space Agency, said, "We have seen great interest in the airspace sector across this region, and now we are seeing more interest in space exploration. It's a rapidly changing and expanding sector, which relies on partnerships and collaboration that is a key part of what we have been doing. We are proud to be members of numerous space organisations and groups, and especially to be hosting IAC 2020."
The Minister said he has seen greater interest in students taking up technology and engineering subjects, but there was still a drive – as a major part of the UAE's space programme, to encourage more students to study maths and science. At higher study levels HE Dr Belhoul said it is gratifying to see more students take up space-related subjects such as materials handling and renewable energy subjects.
Former astronaut Colonel A Worden, USAF-Retd, Command Module Pilot, Apollo 15 is also present at the Dubai Airshow.
Worden is one of only 24 people to have flown to the Moon and perhaps best known as America's first astronaut to perform a Deep Space EVA on the return from the Moon aboard Apollo 15. At the event he was commended for his work in encouraging UAE students to take up STEM (science, technology, engineering and maths) education.
The UAE also put significant focus on the nations's Emirates Mars Mission – Hope. Dr Mohamed Al Junaibi, Executive Director of the UAE Space Agency, said, "It's been an exciting journey, and we are developing the space programme as an inspiration to the UAE youth. We invite all of the UAE youth to join us in taking up this great challenge."
The Hope mission is slated to land on Mars in 2021.
Omran Sharaf, Project Manager, Emirates Mars Mission, MBRSC, said, "The programme is about exploration, and generating new information about Mars, but is also a driver for change, and a tool for education. 'Hope' sends a very strong message to the 100 million youth in the region. Around 800 years ago this was a region which generated knowledge and symbolised tolerance. Our President, His Highness Sheikh Khalifa bin Zayed Al Nahyan, wants to send a clear message to the youth: if you can reach Mars, imagine how much more you can do!"
Sharaf also underlined the importance of STEM education in furthering the growth of the industry and and that knowledge of these subjects would help youth become part of a much bigger, wider goal – to generate a region-wide creative, knowledge-based economy.
The Dubai Airshow ends on Thursday, November 16 and this year includes many new features, including the UAS Summit, Cargo Zone and Airport Solutions.