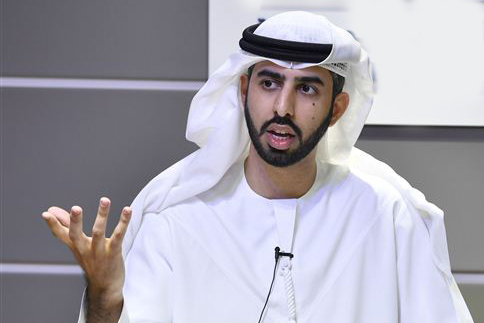 "Artificial intelligence will revolutionise human life as we know it," says UAE Minister of State for AI Omar bin Sultan Al Olama.
The UAE Minister made his remarks during his keynote address at the seminar entitled, 'The Artificial Intelligence Revolution'.
Al Olama highlighted various applications of artificial intelligence in our daily lives, in addition to a number of projects being developed by the world leaders in the field such as self-driving cars, rocket landing programmes, mobile phone assistants, cashier-free supermarkets and advanced robots.
The seminar was among several events organised by the Ministry of Culture and Knowledge Development as part of the UAE's pavilion at the Riyadh International Book Fair, according to WAM.
The seminar discussed the expected impact of artificial intelligence and the fourth industrial revolution on the job market, with artificial intelligence predicted to offer ten million new opportunities. It also underlined that due to automation, artificial intelligence is also expected to eliminate 74 percent of the current jobs available today.
Al Olama then highlighted the importance of artificial intelligence and its applications as the key to building a sustainable future that will benefit communities and support economic and social development efforts.
He also emphasised the need to adopt artificial intelligence across the region's countries is absolutely critical to ensure that they are on par with the achievements of their counterparts in the west.
Minister Al Olama estimated that the expected revenues investments in artificial intelligence could account to up to $15 trillion and contribute up to SAR1.18 trillion to the GCC region's economic region within the next 12 years.
He noted that governments should adapt quickly to these developments to ensure continued happiness and prosperity for their people.
UAE's strategy to adopting artificial intelligence which aims to increase efficiencies within the government, foster creative environments, and encourage higher productivity in various sectors. Building on Sheikh Mohammed bin Rashid Al Maktoum, the Vice President, Prime Minister and Ruler of Dubai's efforts to embrace this new wave. He quoted the Dubai ruler, saying, "Artificial Intelligence is the new wave after the Smart Government upon which all our services, sectors and future infrastructure will rely on."
Al Olama also affirmed that decision makers must be educated on the facts and figures to ensure the correct placement of educational and training strategies needed to meet the region's future needs. With the Arab countries' youth population standing at 108 million, he highlighted the importance of training the younger generation to be the foundation for progress in the field of artificial intelligence.