HE Saeed Mohammed Al Tayer, managing director and CEO of Dubai Electricity and Water Authority (DEWA), reviewed the progress of DEWA's Innovation Centre this weekend.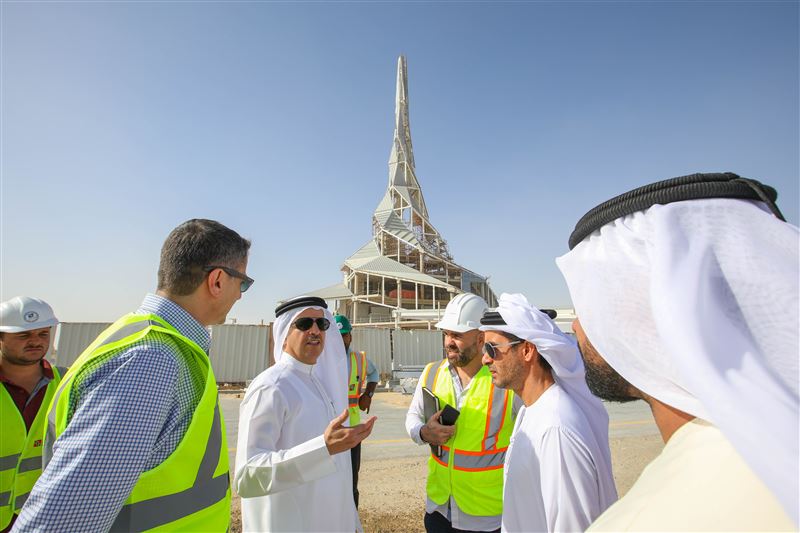 The Innovation Centre is just one of the projects at the Mohammed bin Rashid Al Maktoum Solar Park, the largest single-site project of its kind in the world is based on the Independent Producer Model. It will generate 5,000MW by 2030, with total investments of AED 50 billion.
Al Tayer was accompanied by Waleed Salman, EVP of Strategy and Business Development at DEWA and Saleh BelJafla, senior projects manager – Marketing and Competitiveness at DEWA.
His Excellency was briefed about the progress of the construction work, by representatives from Hadeed Emirates Contracting Company.
The Solar Innovation Centre has been designed with sustainability in mind to support the Mohammed bin Rashid Al Maktoum Solar Park, valued at $3.87 billion (AED14.2 billion). The landmark design celebrates the unique identity of the solar park, regionally and globally. It features an interactive facility equipped with the latest clean and renewable energy technologies.
The building will be a platform to show the latest solar and renewable energy technologies. It will enable DEWA to demonstrate its own achievements in renewable energy and sustainability, and highlight the green strategies incorporated in the Dubai Clean Energy Strategy 2050.
The Centre will aim to raise awareness about climate change and sustainable energy, create interactive presentations, and educate individuals about solar energy. The Innovation Centre will act as a museum and exhibition for solar and renewable energy and hopes to attract tourists, universities, schools, companies, and partners.
It will be open to solar energy manufacturers and developers as it has a specialised place and permanent convention centre for events and conferences, business meetings, training and meetings on subjects related to solar and renewable energy and other green initiatives. The building is 4,000 square metres, and 90 metres high with 5 floors.