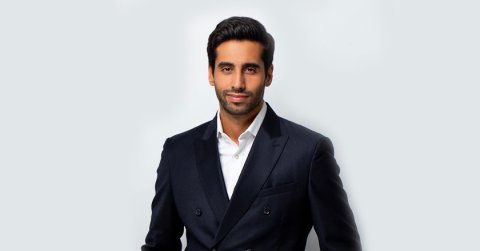 ABO Digital, the private digital asset investment arm of Alpha Blue Ocean, has formed a partnership with AllianceBlock, a provider of blockchain infrastructure that bridges traditional finance and decentralised finance, to offer tokenised structured products for crypto projects and institutions seeking alternative forms of financing.
Through its first-of-its-kind partnership with ABO Digital, AllianceBlock will leverage its decentralised and trustless blockchain infrastructure and the Nexera Protocol to tokenise traditional financial instruments and the option to wrap them into traditional Actively Managed Certificates (AMCs) for capital providers that do not want to hold digital assets. The partnership is another key milestone for AllianceBlock in its mission to build seamless gateways between Traditional Finance (TradFi) and Decentralised Finance (DeFi).
ABO Digital was created to offer a variety of structured financial products to the digital asset market, including convertible bonds, debt issuance, and warrants/options, providing the capital startups need to grow their customer and revenue base. ABO Digital will also explore providing alternative financial investments to institutions through tokenisation.
AllianceBlock and ABO Digital's structured products will provide crypto projects with an alternative to traditional funding options, such as issuing tokens to market makers or venture capitalists via a Simple Agreement for Future Tokens (SAFT), helping them to access additional liquidity from institutional capital providers with full compliance.
Under the partnership, ABO Digital will help negotiate and structure financial instruments based on the project's capital and liquidity requirements. AllianceBlock, together with Nexera Protocol's infrastructure and NexeraID's identity management toolkit, will tokenise and transform these into AMCs with full compliance. Participants' capital will be locked into smart contracts, with those funds disbursed to projects only once the minimum funding threshold has been raised. In return, capital providers will receive a traditional AMC, with AllianceBlock managing the assets by holding the convertible bonds, debt or warrants. ABO Digital will receive a structuring fee based on the amount raised, with AllianceBlock taking the majority of fees for managing the AMC or directly through the tokenised asset.
Institutional and retail participants will benefit from the ability to provide capital to promising crypto projects using more risk-averse and compliant funding mechanisms, providing them with a different form of ownership than directly owning the project's tokens. In addition, they'll gain access to token capital-raising rounds reserved exclusively for large capital providers and the AllianceBlock community through the Fundrs platform.
ABO Digital and AllianceBlock will further bridge the gap between the crypto community and traditional financial markets by offering large crypto funds, private equity firms and other market participants the ability to provide capital in tokenised forms of traditional financial instruments, including shares, options, bonds, tokenised funds and tokenised AMCs. Tokenisation will help these novel instruments to reach new classes of investors across both worlds, therefore increasing market liquidity.
Institutional capital providers are paying close attention to the tokenisation of real-world assets and the potential impact they could have on the investment landscape. The trade of many real-world assets is still primitive, with ownership still signified on paper, thereby increasing transaction times and costs. The subdivision of real-world assets is also limited due to this model. With the tokenisation of real-world assets, fractional ownership becomes a viable option and trading is streamlined, democratising access to new markets while making them safer and fair. It is for these reasons that tokenisation is set to play a transformative role in asset management for years to come.
"Through this strategic partnership, AllianceBlock is set to revolutionise the industry by leveraging its infrastructure to tokenise traditional financial instruments and new instruments for the digital asset space, taking a giant leap forward in providing institutions with a more compliant and risk-averse way to take advantage of DeFi's benefits. This partnership marks a significant milestone for both companies and the industry as a whole, demonstrating our commitment to innovation, compliance, and risk management. The future of finance is looking brighter than ever",  Rachid Ajaja, CEO of AllianceBlock
"Together, ABO Digital and AllianceBlock represent the perfect combination of innovation, expertise, and professionalism in the cryptocurrency market. With our combined effort, we aim to bring a fresh perspective to the world of decentralised and traditional finance and attract more institutional capital providers. We look forward to working with AllianceBlock and paving the way for a new era in finance, one that is both creative and professional", Amine Nedjai, CEO of ABO Digital.
The collaboration between AllianceBlock and ABO Digital represents an innovative example of how the digital asset and traditional finance industries can benefit one another. As the industry matures and AllianceBlock expands the concept of structured financial instruments in crypto, traditional institutions will gain access to a new class of previously inaccessible assets via tokenisation.