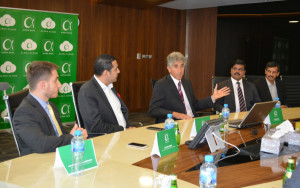 Alpha Data, the UAE-based systems integrator and Managed Service Provider, has launched 'Alpha Cloud,' a new public cloud service that features cloud functionality tailored to meet the country's local cloud computing requirements. The company is one of the first local private systems integrators to launch a public cloud in the country. The debuting service reflects the systems integrator's commitments to strengthen customer relationships through the delivery of premier IT services and sustain its market leadership through the adoption and deployment of emerging technologies.
Alpha Data has invested into a secure, scalable and multi-tenant technology architecture and framework to make hybrid IT simpler, faster and more secure and has incorporated this model into its Alpha Cloud service. The new service brings agility and speed to customers, enabling them to scale on demand, optimise for price, and ensure high performance and business continuity. It also boosts governance and control by enhancing security, business resiliency, and delivery.
Moreover, Alpha Cloud improves cost efficiency by enabling enterprises to shift their IT focus from CAPEX to OPEX, capitalise on the new economics of the cloud, and deliver almost everything as a service. Finally, it raises innovation and performance to new levels by enabling users to create new services, capabilities and hybrid applications and leverage new business opportunities.
"Alpha Data has made a strong commitment to 'Bring the Cloud to Life' by making cloud services simple and easier to comprehend even for non-IT users. Our Alpha Cloud service packages are tailored to serve UAE customers and involve a very simple onboarding process. Users will be able to purchase our premier cloud services either prepaid or postpaid. Basic Cloud services such as compute, storage, and backup can be subscribed to through various plans along with value-added services. Alpha Cloud offers several business services such as Private Cloud, Virtual Private Cloud and Disaster Recovery provisioning to implement the Cloud services delivery model, with the option of including traditional Managed Services along with core services," said Murugesan Vaithilingam, Services Director at Alpha Data.
Farid Abo El Fotouh, Services Director, Alpha Data, added, "Alpha Cloud was developed out of our firm desire to meet the needs of our clients who face rapid technological evolution and the shift to Cloud-supported operations and services. This latest addition to our portfolio is a result of our close and active engagement with our customers who provided us with valuable insights on the importance of the cloud to their business and how the cloud fits in and supports their core activities."