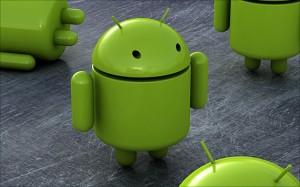 New research from Nielsen indicates that Android products now account for more than half of the smartphones in use in the U.S. market, and that 54% of those who purchased smartphones in June 2012 opted for an Android device.
The market research firm said that smartphone market penetration, in general, continued to grow in the second quarter of 2012, accounting for about 55% of U.S. mobile device users. This trend is a product of the rapid rate at which American consumers are purchasing smartphones — which have accounted for 2 out of 3 mobile phones bought during the past three months.
A little more than half of the smartphones purchased during that time period were Android devices. Roughly 1 in 3 — 34% — were iPhones, while just 9% were BlackBerries.
The overall market shares in the smartphone sector look roughly the same — Android, as mentioned, is the platform leader, with about 52% of the market, iOS is in second place with a little more than 34%, and BlackBerry accounts for 8%. (Windows Phone and other operating systems make up 5.9% , according to Nielsen.)
The picture could well change within the next several months, however, as major movements in the mobile sector take shape — Apple is believed to be planning the release of the iPhone 5 sometime before the end of the year, though this is, as yet, mere speculation, while legal turmoil hampers Android device makers and BlackBerry maker RIM continues to fight rumours of its coming demise.