Apple has signed a corporate IT agreement with Deloitte to accelerate its efforts to secure larger enterprise customers.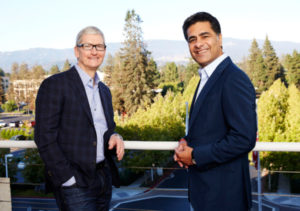 Joining together under the banner of a service called Enterprise Next, the partnership sees Deloitte create a new Apple practice, which involves over 5,000 strategic advisors consulting businesses on iOS device usage across a range of industries.
Spanning customer-facing functions such as retail, field services and recruiting, to research and development (R&D), inventory management and back-office systems, Deloitte Consulting will work with organisations using the iOS ecosystem of hardware, software and services in the workplace.
"As the leader in digital transformation strategy, Deloitte is an ideal partner that brings a team of Apple-dedicated strategic advisors to help clients truly revolutionise how they work using iOS, iPhone and iPad," said Cook. "iPhone and iPad are transforming how people everywhere get work done. And through this partnership, we're able to help even more businesses tap into the incredible capabilities that only the Apple ecosystem can deliver."
Enterprise Next from Deloitte Consulting will provide businesses with expertise spanning more than 20 industries, and offers customers capabilities around prioritising digital resources and maximising new mobile opportunities.
Through the Enterprise Next Workshops for iOS, advisors will take ideas from prototype to custom-built iOS solutions, drawing on the experience of iOS architects, designers and engineers housed within Deloitte Digital Studios around the world.
"We know that iOS is the best mobile platform for business because we've experienced the benefit ourselves with over 100,000 iOS devices in use by Deloitte's workforce, running 75 custom apps," said Deloitte Global CEO, Punit Renjen. "Our dedicated Apple practice will give global businesses the expertise and resources they need to empower their mobile workforce to take advantage of the powerful ecosystem iOS, iPhone and iPad offer, and help them achieve their ambitions, while driving efficiency and productivity."
Through partnership with IBM, Cisco, SAP and now Deloitte, Apple is advancing at a rapid rate in enterprise, bolstered by the vendor's increased credibility within the space.