BlackBerry has announced that it will soon end all hardware development and will instead outsource its phone production and design to third parties.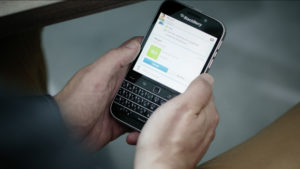 The announcement follows the release of the company's quarterly earnings report on 27th September, which showed that the company incurred heavy losses. As a result, has decided to quit the smartphone production game and concentrate on apps, software, and services.
"We are focusing on software development, including security and applications. The company plans to end all internal hardware development and will outsource that function to partners," BlackBerry CEO John Chen said in a written statement.
The end of BlackBerry's hardware division has been a long-time coming. Nearly a year ago, Chen said BlackBerry would get out of the phone business if it couldn't gain any traction with its handsets.
According to industry reports, BlackBerry was never able to compete after Apple rolled out the original iPhone in 2007; the company never truly appreciated the threat that iPhone-era smartphones posed.
By the time BlackBerry did confront the threat of the iPhone (and Android phones) around 2012 it was already too late. Since then, BlackBerry has tested the waters with several Android phones packed with BlackBerry security and messaging features—the most recent of which was the DETK50.
But even becoming a "me-too" Android manufacturer wasn't enough to win over smartphone shoppers in retail stores and corporate purchasing departments. Now all hardware development will be left to partners. In fact, BlackBerry is already doing that. The aforementioned DETK50 was designed and produced by Alcatel and, as we said in July, looks to be little more than a re-branded version of the Alcatel Idol 4.
Similarly, Microsoft is also leaving hardware development up to third-party manufacturers while it focuses on developing the software.
It's not clear if BlackBerry will be as hands off as Microsoft presumably is at this point. However, Chen noted that the move will allow the company to reduce capital requirements and enhance return on invested capital.
Originally published on PCWorld. Reprinted with permission from IDG.net. Story copyright 2021 International Data Group. All rights reserved.