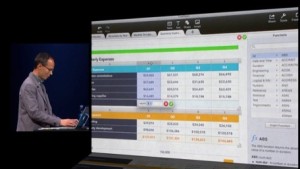 Apple has begun expanding its iWork for iCloud beta, inviting developers free accounts to start testing the in-browser versions of Apple's Pages, Keynote and Numbers applications.
Apple first unveiled iWork for iCloud at its Worldwide Developers Conference on 10 June. The company then began inviting registered developers to try out the beta of the new service.
MacRumors reports that Apple has been sending out beta invites for iWork for iCloud on a rolling basis since WWDC, now to both paid and free developer accounts. On 3 July, it is believed that Apple sent out a large batch of invitations to get more people to participate in the beta testing process.
Some reports had suggested that non-developers have been invited to test the beta, but Apple told The Next Web that these reports were inaccurate.
Developers who've received an email invitation from Apple can access the iWork for iCloud beta by going to beta.icloud.com and logging in using their Apple ID. The final version of iWork for iCloud is set to be released to the public later this year.