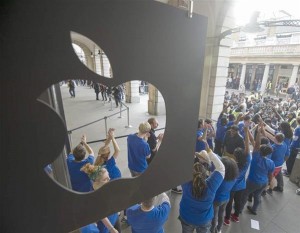 Apple has seen its first decline in profits for a decade during the first quarter of 2013.
The iconic brand lost its most valuable company title last week and has now seen a drop in its profits. Apple recorded a quarterly net profit of $9.5 billion, more than $2 billion less than recorded in the same quarter last year of $11.6 billion.
This is despite a revenue increase from $39.2 billion to $43.6 billion and growth in both iPhone and iPad sales. The problem is that Apple's gross margin has dropped from 47.4 percent to 37.5 percent year-on-year.
However, Tim Cook, CEO of Apple remains upbeat, saying, "We are pleased to report record March quarter revenue thanks to continued strong performance of iPhone and iPad,"
"Our teams are hard at work on some amazing new hardware, software, and services and we are very excited about the products in our pipeline."
The iPad tablet saw significant growth with 19.5 million sold compared to 11.8 million in the same quarter last year. This is partly due to the introduction of the more affordable iPad mini.
With increasing competition from Samsung and other Android makers, the iPhone only saw a small growth of 2.3 million to 37.4 million units. Apple saw a small decline in Mac sales to just under 4 million.
It's by no means the start of the end for Apple, which has had a quiet quarter. Plenty of rival devices have arrived while we await the next generation iPhone 6 and iPad 5. There are also rumours that the firm will launch an iWatch.