It's time to update all your Apple gear. A relative minor point update update has reportedly been released for iOS, tvOS, and watchOS. When you get the time, you should update all your iPhones, iPads, AppleTVs, and Apple Watches.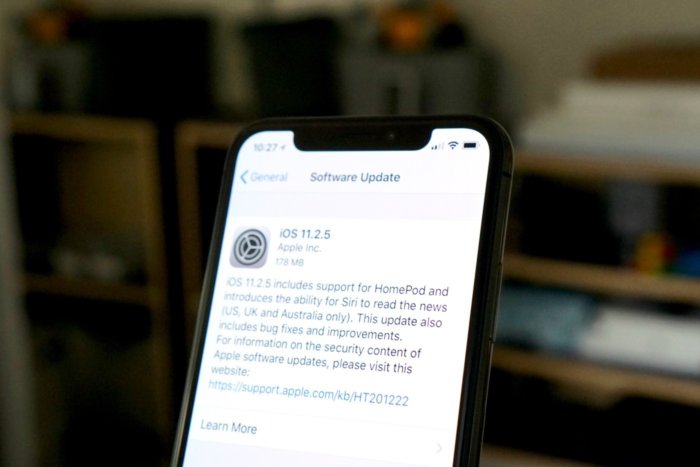 What's new in iOS 11.2.5
You won't find dramatic changes or really big new features in iOS 11.2.5, but it does add support for HomePod (coming February 9th) and the ability for Siri to play audio news. That last one is a little odd, because the feature went live last week and worked fine on earlier versions of iOS. Here's what Apple lists in the release notes:
HomePod support
Setup and automatically transfer your Apple ID, Apple Music, Siri and Wi-Fi settings to HomePod.
Siri News
Siri can now read the news, just ask, "Hey Siri, play the news". You can also ask for specific news categories including Sports, Business or Music.
Other improvements and fixes
Addresses an issue that could cause the Phone app to display incomplete information in the call list
Fixes an issue that caused Mail notifications from some Exchange accounts to disappear from the Lock screen when unlocking iPhone X with Face ID
Addresses an issue that could cause Messages conversations to temporarily be listed out of order
Fixes an issue in CarPlay where Now Playing controls become unresponsive after multiple track changes
Adds ability for VoiceOver to announce playback destinations and AirPod battery level
To update your iPhone or iPad, open Settings, go to General, then Software Update.
tvOS 11.2.5
You won't find big new features in tvOS 11.2.5. It's just the standard "bug fixes and performance improvements."
You can update your Apple TV by opening Settings and going to Software Update.
watchOS 4.2.2
As with tvOS, the latest release of watchOS focuses on "improvements and bug fixes" and has no outwardly visible changes. Still, bug fixes are good and you should probably grab this update.
To update your Apple Watch, you'll need to have at least 50 percent charge, have the watch on its charger, and within range of the iPhone to which it is synced. Then, on the iPhone, open the Watch app, select General, then Software Update.