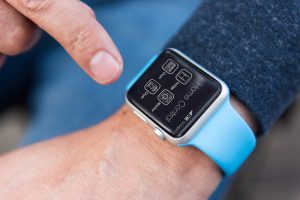 Expected early this year, Whirlpool customers can remotely communicate with connected appliances through the Apple Watch. According to the firm, the collaboration marks the first time an appliance maker has connected its products with Apple Watch and its capabilities.
"Bringing intuitive technology and functionality to the appliance category that helps take the friction out of household chores is chief among our goals as we innovate for the smart home," said Brett Dibkey, Whirlpool Corporation vice president, brand and strategy in North America. "Our consumers are sophisticated and expect their appliances to work smarter, not harder. Through the new collaboration with Apple, we're increasing a consumer's capability to interact with their appliances in new and more convenient ways."
Compatibility with Apple Watch will begin with a roll out to more than 20 Whirlpool brand connected appliances in 2018, said the firm. However, users must first set the appliance to 'remote enable' with WiFi connected and App downloaded.
Consumers will be able to remotely communicate with their appliances through the Whirlpool app on Apple Watch in a variety of ways.  For an oven, consumers will be able to see the current oven status and control commands during an active cycle. For a washer, along with status updates, users can control the wash options of an active cycle. Whether it be a normal wash, delicates, or brights, consumers can adjust an active cycle on the fly via their Apple Watch. When it comes to the dryer, consumers can control and detect if a cycle has started, understanding how much time remains before the cycle is complete.
At the ongoing CES conference in Las Vegas, attendees can get a closer look at Whirlpool's new launches.