Apple's App Store still pulls in twice as much revenue as the Google Play Store, despite the continued growth in Android smartphone use, according to a report from mobile app tracking firm Distimo.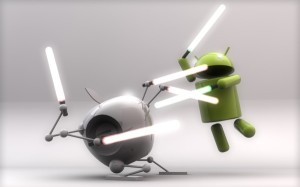 However, Android app sales have pulled closer to iOS numbers over the past six months, the report said – app revenues on the Play Store rose by 67 percent over that period, compared to 15 percent for the App Store.
Android users in Japan and South Korea accounted for much of the gains seen on that platform, Distimo said, despite the fact that the U.S. still drives more mobile app  spending than any other single country. Revenues for Google Play in South Korea far outstripped Apple's — not surprising, given Android powerhouse Samsung's home-field dominance.
"The Apple App Store was still the larger market compared to Google Play in July 2013 in terms of total revenue," said the report. "However, Google Play's cut has increased  significantly over the past few months."
What this means, according to Distimo, is that the Play Store went from making up 25 percent  if the combined revenue of the two app stores in February, to 33 percent in the latest figures.
Second-quarter numbers from another mobile app analysis firm, App Annie,  are in line with Distimo's. App Annie puts the App Store's revenue advantage slightly higher, at 2.3 times that of Google Play, but the central role of Japan and South Korea in driving Android app spending is identical.
While the size of the market itself isn't made explicit – neither company cites specific  dollar figures or app download numbers – both reports indicate that app revenue trends could be swinging in Google's favor, albeit slowly.