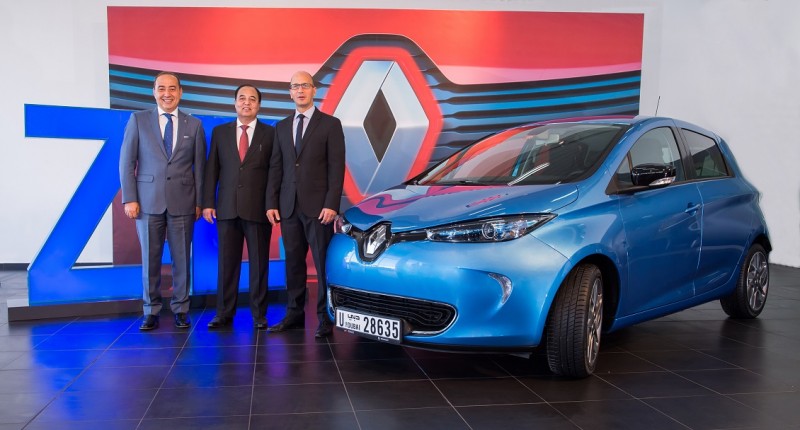 Arabian Automobiles, part of AW Rostamani Group, has announced that it delivered five new Renault ZOE 40 Long Range cars to Shift, making it the UAE's first car rental company to use electric vehicles (EVs) in its line-up. The zero emission Renault ZOE 40 Long Range will support Shift's mission to reduce carbon footprint in the country.
Salah Yamout, director of sales and marketing, Arabian Automobiles, said, "Arabian Automobiles is committed to supporting the UAE Vision 2021 sustainability objectives, which include increasing clean energy to 50 per cent of the total energy mix. By providing major companies like Shift with the new Renault ZOE 40 Long Range, we are contributing to this vision by introducing top quality electric vehicles to the UAE's car rental and leasing sector for the first time. We are proud to have made this progress with Shift and look forward to what we are confident will be an excellent response from its customers."
The Renault ZOE 40 Long Range is a 100 percent electric vehicle that offers a range of up to 300km in real driving conditions and a short charging time of only two hours, making it one of the most practical electric vehicles on the market. With zero tailpipe emissions, the vehicle cuts carbon footprints while also providing drivers with a stylish, efficient and enjoyable ride, the company claimed.
Ashish Nanda, senior general manager, Shift Car Rental, said, "We believe that electric vehicles are the future of road transport so we are delighted to be introducing the Renault ZOE 40 Long Range to the UAE's car rental market. Like our customers, we are increasingly environmentally conscious, so this is an important move toward making our fleet cleaner and greener in support of our leadership's sustainability agenda."
Arabian Automobiles said it was the first company to sell electric vehicles in the UAE and has now been supplying the market with EVs since 2013.
Recently, Tesla and SpaceX CEO Elon Musk met RTA Director-General and Chairman Mattar Al Tayer in LA to discuss the prospects for dubai electric vehicles and self-driving transport in the emirate.
Other news related to electric vehicles can be found here and here.