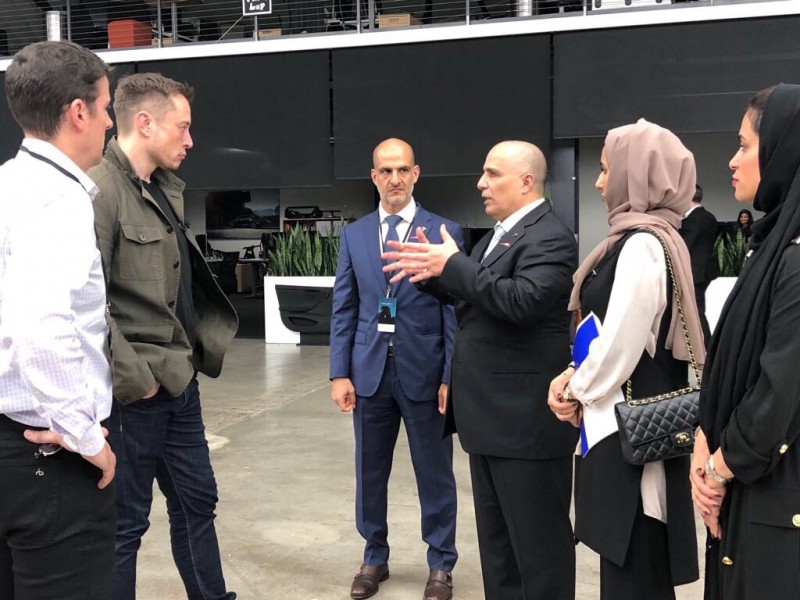 Tesla and SpaceX CEO Elon Musk met RTA Director-General and Chairman Mattar Al Tayer in LA to discuss the prospects for dubai electric vehicles and self-driving transport in the emirate.
The RTA recently purchased 200 Tesla vehicles that are now operated as part of Dubai's taxi fleet and service Dubai International Airport.
Discussions also included the services provided to deliver Dubai electric vehicles, the RTA tweeted.
On 17th September, the RTA added 50 new Tesla electric vehicles to the Dubai Taxi's airport limo fleet.
Seventy-five vehicles will be supplied in 2018, and 75 more will be delivered in 2019, according to Al Tayer. The Dubai Taxi Corporation has coordinated with the "concerned parties" to provide the needed infrastructure to ensure the operation of these vehicles including the provision of 13 electric recharging stations.
Dubai has also set its sights on becoming a global driverless mobility leader, outlined in its Smart Autonomous Mobility Strategy, which is aimed to convert 25 per cent of total journeys into driverless journeys by 2030.
As an aside to the meeting, the RTA launched its Dubai World Challenge initiative, which aims to tackle some of the biggest challenges around urban transport through self-driving vehicles.
The Dubai World Challenge is an international competition aimed at encouraging industries of autonomous mobility to solve existing problems such as traffic congestion, low public transport ridership, "first and last mile" challenges, and broadening the scope of self-driving transportation.
The Challenge covers three main categories: transporting people and goods, and innovation.
HE Mattar Al Tayer met with HE Elon Musk,CEO of Tesla,and they discussed developments related to the 200 vehicles purchased by the #RTA & operated as part of Dubai Taxi fleet to serve the Dubai Airport. Discussions also included the services provided by Dubai to electric vehicles pic.twitter.com/euRSAUHgB0

— RTA (@RTA_Dubai) November 18, 2017
On 16th November, meanwhile, Musk unveiled what he claims to be the fastest production car in the world, the latest iteration of the Tesla Roadster EV — which packs a 200-kW battery that allows the four-seater to go from zero to 100kph in 1.9 seconds.
That's shortly after he unveiled the Tesla Semi truck, which Musk said would revolutionise fleet trucking. By using artificial intelligence-driven autonomous driving, he said it could also potentially turn trucks into trains on the road.
Earlier this year, Elon Musk spoke at Dubai's World Government Summit at the Madinat Jumeirah.