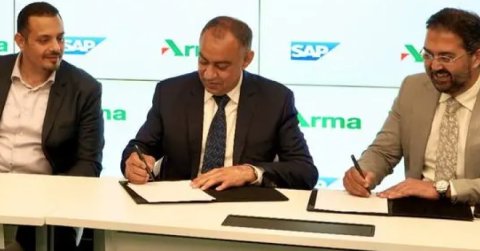 Arma Group has enlisted the support of  SAP SE to embark on a complete digital transformation to enhance its services for retailers, partners, employees and customers.
Arma Group, part of HSA Group and known for its portfolio of household brands including Crystal, El Hanim, Hala Sunflower Oil, Qaleya, and Al Asil, will be implementing RISE with SAP, a business-transformation-as-a-service offering that accelerates the journey to the cloud and helps companies innovate, extend and customise their applications to become their own version of an intelligent sustainable enterprise. By leveraging RISE with SAP alongside SAP's enterprise resource planning (ERP) solutions, Arma Group will accelerate its journey to the cloud and benefit from 360-degree visibility over all its operations while enjoying increased efficiencies, transparency and agility.
Muneer Ahmed Hayel Saeed, Managing Director of Arma Group and Board Member of HSA Group, said, "As a trusted industry leader for over 30 years, Arma Group is known for its steadfast focus on quality across all aspects of our operations. Through our ongoing digital transformation, we are poised to elevate our services and build on our legacy of excellence as we continue to surpass the expectations of our partners and customers".
"Our partnership with SAP provides us with unprecedented visibility into our expansive operations, enabling us to access real-time data insights and, in turn, adapt to evolving customer and market demands with agility and speed. Automating and streamlining our business processes will optimize efficiencies, freeing up valuable resources to fuel innovation – a cornerstone of Arma Group's continued competitiveness in the ever-changing market landscape".
"With a proven track record spanning over three decades, we remain steadfast in our mission to provide unmatched value and tailored solutions for our customers".
Arma Group's focus on innovation will be further realized through its activities at SAP Egypt's Experience Centre in Cairo. Here, experts from Arma Group and SAP will work together to solve current industry challenges and create solutions for best practices in the FMCG industry. They will also explore innovation use cases to accelerate business transformation with iterative prototypes, product solutions, and long-term partnerships.
Mohammed Samy, Managing Director, SAP Egypt, said of the new agreement: "Implementing RISE with SAP enables Arma to align with Egypt Vision 2030 while fast-tracking the latest cloud-based technologies. The solutions are scalable and agile, meaning that Arma Group can focus on new opportunities and expand its reach while continuing to consistently meet its customers' expectations. It is this forward-thinking approach that makes Arma an ideal partner for SAP to collaborate with, creating meaningful solutions based on best practices at our Experience Centre".
Visit the SAP News Centre. Follow SAP on Twitter: @SAPMENA and @SAPNews.