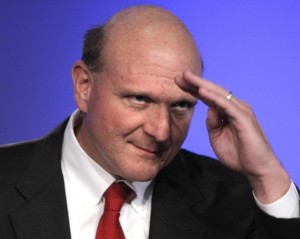 Ex-CEO Steve Ballmer has resigned from the Microsoft board, citing other commitments as his key reason.
Ballmer, 58, made the announcement in a statement issued by Microsoft Tuesday that replicated a letter Ballmer sent to current CEO Satya Nadella.
"Given my confidence [in the company's direction] and the multitude of new commitments I am taking on now, I think it would be impractical for me to continue to serve on the board, and it is best for me to move off," Ballmer wrote.
Ballmer cited his new ownership of the Los Angeles Clipper professional basketball team – he closed the $2 billion deal a week ago – as well as a teaching assignment this autumn as reasons why his time was tight. Ballmer will reportedly teach a class at the University of Southern California's Marshall School of Business.
"In the six months since leaving, I have become very busy. I see a combination of the Clippers, civic contributions, teaching and study taking a lot of time," Ballmer wrote today.
"This is an extension of the handing over the reins," said Ross Rubin, principal analyst at Reticle Research. "There could be a lot of tension in a situation where there's a former CEO on the board, questioning the direction of the current CEO. Ballmer's departure helps to avoid that kind of situation. It creates a clearer path for Nadella going forward."
Ballmer had positive things to say about Microsoft under Nadella, who in the last six months has steered the company in a different direction, which he has alternatively characterised as "mobile-first, cloud-first," "productivity and platform," or a combination of the two.
"You're off to a bold and exciting start," Ballmer told Nadella.
Ballmer did hint, however, that he thought the road ahead for Microsoft was going to be rough, or at least difficult. "Microsoft will need to be bold and make big bets to succeed in this new environment," Ballmer warned. "In the mobile-first, cloud-first world, software development is a key skill, but success requires moving to monetization through enterprise subscriptions, hardware gross margins, and advertising revenues."
But he was confident that Microsoft would endeavor to persevere. "Making that change while also managing the existing software business well requires a boldness and fearlessness that I believe the management team has," Ballmer said.
Although there had been intense speculation before Microsoft appointed Ballmer's successor that the continued presence of both Ballmer and co-founder Bill Gates on the board of directors would create problems for the new chief executive, there have been no outward signs of that since Nadella's ascension in February.
"But you never know what's been going on behind the scenes," said Rubin.
Ballmer said he planned to keep his Microsoft stock, unlike Gates, who has been liquidating his portfolio for more than a decade. "I hold more Microsoft shares than anyone other than index funds and … I expect to continue holding that position for the foreseeable future," Ballmer said today.
According to documents filed with the U.S. Securities and Exchange Commission (SEC), Ballmer has 333 million shares worth approximately $15 billion. Gates has reduced his holdings to 298 million shares.
"I promise to support and encourage boldness by management in my role as a shareholder in any way I can," Ballmer said.
And Nadella acknowledged Ballmer's special position, even off the board. "I also look forward to partnering with you as a shareholder," Nadella wrote.
Originally published on Computerworld (US). Reprinted with permission from IDG.net. Story copyright 2018 International Data Group. All rights reserved.